What we do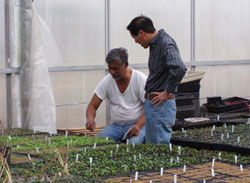 Our industrial food system has created a health crisis, an economic crisis, an environmental crisis and a crisis of community. Cultivate Kansas City believes that urban agriculture is fundamental to building an alternative system for our city. Through growing good food, growing new urban farms, and growing stronger communities, we aim to build a healthier, more economically and environmentally sustainable community.
Learn more about our programs, and figure out what you can do to grow the change you want to see in our city. Together we're growing the change.
Please note this video was produced in 2010 under our old name, Kansas City Center for Urban Agriculture. Although the organization name and some program names have changed, KCPT did a fantastic job of capturing our work that we are continuing today as Cultivate Kansas City.