History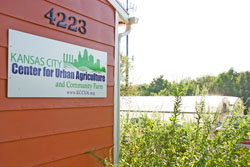 The Kansas City Center for Urban Agriculture (renamed "Cultivate Kansas City" in 2011) was founded in 2005 with the goal of promoting urban agriculture – the growing of food in city neighborhoods to feed other people. In the years since then, Cultivate Kansas City has become a powerful advocate, educator, and activist in support of production of fresh, nutritious produce in city neighborhoods across the metro area.
Our focus has broadened in response to community needs and the rapidly changing food system. When we first began, we worked primarily with independent farm businesses and on general public education on the food system, urban farming, organic growing, and the importance of eating local food. Since then, we've seen a remarkable development in the ways that people are interested in growing and accessing local food – and we've expanded our work to meet those changes.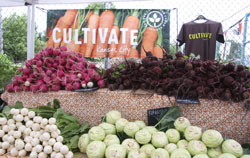 Since 2005, we have grown from two staff members with a $80,000 budget to our current full-time staff of seven, along with numerous part-time staff and seasonal crew with a budget over $700,000. As our capacity has increased, our work has expanded.
We continue our work with urban farmers – both as farm businesses and as programs of non-profit organizations; the Get Growing Kansas City pilot program, launched in the summer of 2011, put a multi-organizational team of ten people into neighborhoods to help promote urban farming, to support urban farm businesses as they start up and grow, and to work with communities and individuals as they figure out how they want to get good food growing in their own lives and neighborhoods.
In 2010, we had built the organizational and community capacity to take on policy issues as they relate to urban agriculture. We worked with the Kansas City, MO Urban Planning Department, the city council and the mayor to write and pass new codes that better support urban food production and food access. We worked with the city to organize the first Kansas City, MO Food Summit, bringing together community leaders, city staff and elected officials to look at how the city is and could and should be involved in food production and access issues. We continue our work on policy issues, working as a member organization of the Food Policy Coalition of Greater Kansas City and independently. We've started new programs and helped launch new organizations. We've helped transform the conversation about urban agriculture in our city.