Annual Farmers & Friends Meeting
Each year Cultivate Kansas City hosts the Annual Farmers & Friends Meeting at the end of January. The 2013 meeting is scheduled for January 26, 9 am - 12 pm. The goals of the meeting are:
To create a space for peer-to-peer learning

To facilitate an opportunity for growers to connect to share challenges, solutions and enthusiasm

To share information about local resources

To give a "whole systems" or big picture vision of urban growing in Kansas City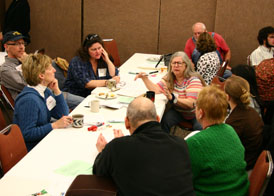 We seek to connect our daily work as farmers, gardeners, food advocates and friends to the vision of the community we want to build with a farm in every neighborhood and access to fresh, healthy, affordable food for all people. Check out photos from previous meetings. The meeting is free and open to the public. Download the meeting agenda and discussion topics.
Last year, we offered a panel of three new projects in Kansas City that were at that midway point between idea and reality, that were just getting launched and developed. We want to continue this panel, now called "Dreamers and Doers" in this year's event. We hope presentations by these newcomers to the food/farming community will educate the growing community about new projects on the ground and new models or approaches to achieving our common vision. Through sharing their work, their goals, and their challenges, the panelists will connect with other growers, creating an opportunity to both receive guidance and support from local experts and to voice what they have learned to inspire and motivate others to get growing in their neighborhood. We also want to recognize them for their courage, creativity, and vision!
Following the panel, we will break into informal discussion groups to network and share ideas for building a healthier food system in Kansas City communities.
As always, the morning concluded with breakout discussions on topics that you choose.
It is a tradition of the Annual Farmers & Friends Meeting for participants to bring a homemade pie to share!
We look forward to sharing the morning with you next January and to working together to grow the change we want to see in our city.