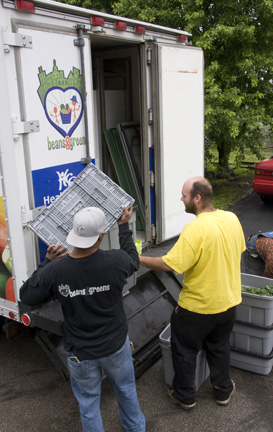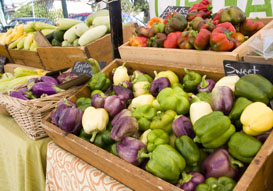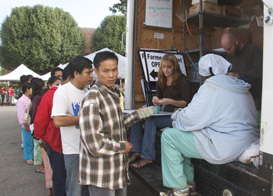 Beans&Greens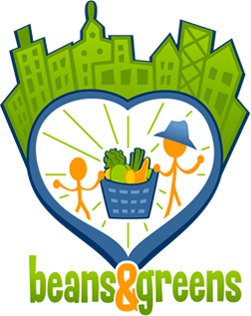 Cultivate Kansas City is committed to ensuring access to fresh, healthy fruits and vegetables for all members of our community. In response to access and affordability challenges faced by residents living in food deserts, Cultivate Kansas City and the Menorah Legacy Foundation led a collaborative effort to develop the Kansas City Beans&Greens program.
This program matches, dollar-for-dollar, food assistance dollars spent at farmers' markets. The match makes more dollars available to purchase healthy, locally grown foods at the markets. The intent is to encourage 1) lower income residents to purchase locally grown produce and 2) local farmers to sell their produce in food insecure neighborhoods.
Neighborhood Focus
Beans&Greens prioritizes partnering with farmers' markets, market stands and mobile markets that are within or near to neighborhoods that exhibit characteristics found in food deserts including:
Zero or a limited number of mainstream grocery stores;

Limited access to other sources of locally grown produce; and/or

Residents with limited purchasing power
Comprehensive Program
Beyond the matching incentives, the program provides:
Outreach and education to help low-income consumers go to their local farmers' market prepared on how to choose, cook and eat fresh produce

Point-of-Sale machines to accept SNAP cards and debit cards

"Best practice" guidance for supporting Electronic Benefit Transactions (EBT)
How It Works
SNAP participants swipe their EBT cards at the market's information booth for their desired dollar amount. They receive double that amount (up to $30 a week) in wooden tokens that the local farmers will accept as currency at that participating market. Visit the Beans&Greens website to find participating markets.
Community Benefits
Beans&Greens creates a "win-win" situation for customers, local farmers, local farmers' markets, and the community: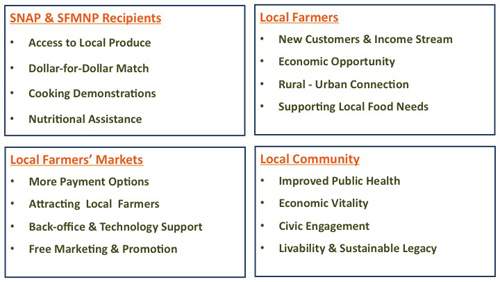 Mobile Market
The Beans&Greens Mobile Market launched in April, 2011, enabling Beans&Greens to serve neighborhoods that don't have a farmers' market or quality mainstream grocery stores. Currently, the Mobile Market is working with the Argentine neighborhood, Marlborough neighborhood, and Guadalupe Center to develop routes and schedules to sell locally grown foods to that meet residents' needs. Please contact Eugene Brown, III for additional information. Eugene can be reached at (816) 517-0945 or eugene[at]beansandgreens.org.
Partners and Funders
Funding for the Beans&Greens program has been generously provided by: The Menorah Legacy Foundation, the Kansas City Center for Urban Agriculture, the Health Care Foundation, the Missouri Department of Agriculture, the William T. Kemper Foundation, Blue Cross and Blue Shield of Kansas City, the Benson Family, The Independence Examiner and philanthropic individuals.
Participating organizations include The Family Conservancy, K-State and MU Extension Services, and a wide array of social service agencies and community-based groups.
For more information visit www.beansandgreens.org or contact Jenn Brockman at jenn[at]beansandgreens.org.