Urban Grown Farms & Gardens Tour
Every other June, Cultivate Kansas City organizes the Urban Grown Farms & Gardens Tour to showcase what is growing in the neighborhoods where we live, work, shop and play. Farmers and gardeners across the Metro area open their fields, lawns, homes and hearts to share with people of the city. The 2013 Tour will be Saturday & Sunday, June 22nd & 23rd. Save the date! Visit the 2013 Tour section of our website, for all of the event details and updates.
This tour showcases the many and wonderful ways people are growing food in the city- growing food for themselves and growing food for others: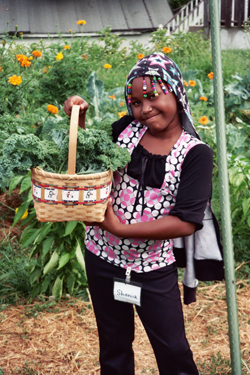 Children harvesting okra in a church garden to sell at a market that provides affordable food to low-income people

Farmers producing the best tasting tomatoes ever so your family has the most fabulous meal at the end of a hard work day

Teachers and students cultivating sweet potatoes and together learning about math, biology, cooperation and hope

Families gardening together at their homes to reduce food costs and to strengthen their family ties by spending more quality time together

Communities working together to reclaim an empty lot and turn it into a place of beauty and a source of good food
We'll see you in June!