Annual Farmers & Friends Meeting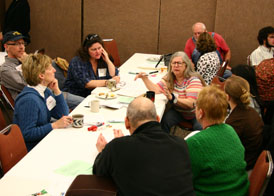 Dozens of area farmers, growers and friends come together each year for Cultivate Kansas City's Farmers & Friends Meeting. Our 2018 event will take place:
Saturday, February 3, 9 a.m. to 3 p.m. at Second Presbyterian Church, 318 E. 55th St., Kansas City, MO
At Farmers & Friends, the day is about growing together as a community around local food. We share knowledge, start conversations and introduce the community's leaders to those who are just getting started in the farming business. We also dream about what a healthy food system for Kansas City could look like, and then we venture out to make it happen. Some of the specifics include: 
Workshops and panels lead by local experts
Opportunities to connect with your local growing community
Keynote speakers and announcements
Two potluck meals! Homemade pie for breakfast and a hearty lunch
The event is open to all Kansas City area farmers, growers and friends. Tickets are $5. Click here to purchase yours.
Check out the 2017 draft agenda on the left sidebar to see what our most recent meeting featured. 
Still not sure what this event is all about? Read about it in this article in Mother Earth News.
FAQs
Should I bring food for the potluck? YES! One of the special features of this day is morning pie and coffee and the huge potluck lunch! Please be sure to bring a dish (or two- last year we ran out of food), especially pies! Put a piece of tape with your name and phone number on any dishes you want returned. Know that, collectively, we have a BIG appetite for good food prepared by fellow growers and community members!
Here's a loose suggestion about what to bring: A-F: Pie/Breakfast/Dessert, G-M: Side Dish, N-T: Main dish, U-Z: Beverage (we'll provide coffee and tea) or Snack/Appetizer
I've never been to an annual meeting, what should I expect? You'll feel at home in a room packed with friendly folks who are passionate and knowledgeable about growing and eating good, healthy food in our city. We all want to connect, support, and grow together! Last year 240 people attended the annual meeting.
I'm not a farmer, but I want to be involved; can I come? Absolutely! Food Democracy is all about each one of us taking an active role in creating a sustainable and just food system. We need all kinds of people and skills, not just farmers!
The meeting starts at 9 am, what time should I get there? The meeting will start promptly at 9 am, so plan to arrive before 8:30 am to park, check in, enjoy coffee and pie, find a seat and get settled in. Doors will open at 8 am, so you are welcome any time after then.
Do I have to stay all day? No. We know how busy everyone is. Some people want more opportunity to learn, connect and grow, others can't fit that much into their schedules. Please join as you are able.
Can I make an announcement about a project/event I am involved with? Yes! We will have a few minutes for attendees to stand up and make an announcement about relevant events or projects to the whole audience. Please come early to sign up for one of the limited announcement slots.
Questions? Email info[at]cultivatekc.org!