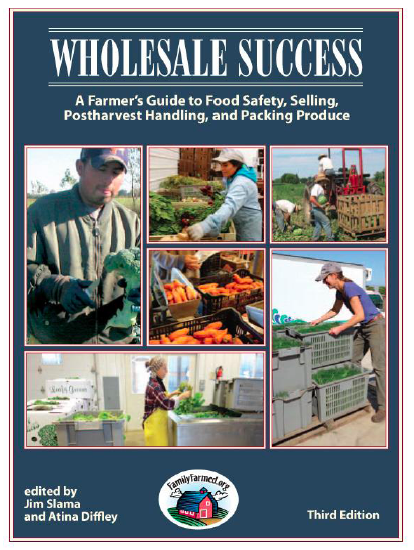 Wholesale Success Workshop 2014
Postharvest Handling and On-Farm Food Safety Workshop
Hosted by Cultivate Kansas City and Lincoln University in partnership with FamilyFarmed.org
Participating producers will receive a free copy of the Wholesale Success manual. Normally an $80 value, this 300+ page manual is newly updated, revised, and in its fourth printing. Wholesale Success covers up-to-date best practices information on food safety, postharvest handling, packing, business management, marketing, and crop-specific profiles for over 100 crops.
Join us in Kansas City to Learn about:
Postharvest Handling - Maintaining the Cold Chain
Cleaning and Drying - Packing and Grading
Relationships with Buyers - Food Safety Best Practices
Wednesday, March 12, 2014
8:00 – 9:00 Registration
9:00-10:15 Food Safety
10:30-11:45 Sorting and Packaging
11:45-1:15 Lunch:
Farm Economics of Wholesale – Growers Panel
1:15-2:45 Post Harvest Handling
3:00-4:00 Marketing
Hosted at Rainbow Mennonite Church
1444 Southwest Blvd Kansas City KS 66103
Early-bird Registration $20.00 Before March 5, 2014
(Includes Lunch) $25.00 After March 5, 2014
Limited Space! Register now.
Questions? Contact Katie Nixon (816) 809-5074
About the trainer
Our trainer Atina Diffley draws on her decades of experience in vegetable production and marketing to provide operators of produce farms of any size with useful, practical, profit-making guidance on how to achieve the highest quality produce for sale!
What Farmers Are Saying:
"Tremendous resource! Wholesale Success book is a gem."
"Easily one of the best presentations I have heard on anything anywhere!"
"Wonderful! Lots of very useful, actionable information that will help me grow my farm business."
"Atina Diffley did an excellent job! Good presentation from someone who has actually been a grower."