Cooperative Resources
Community Greenhouse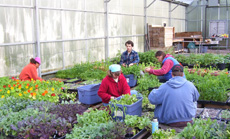 The Gibbs Road Farm is home to the Quell-Davis Community Greenhouse. This one-of-a-kind greenhouse provides participating farmers an early start to the season while growing community. There are 31 farmers (including our own) growing transplants for their own farms and for sale at market. We estimate that 150,000 transplants come out of the greenhouse annually, with the crops from the transplants supplying 14 markets across the city, six CSAs, and numerous restaurants. In addition to English, there are 12 different languages spoken and farmers from 11 different countries. The diversity of farmers sharing a common space facilitates conversation and collaborative, peer-driven learning while individuals prepare for the growing season. We are seeking to build more community greenhouse space throughout the KC Metro area to meet the growing demand. The current space is full.
Bulk Seed Potatoes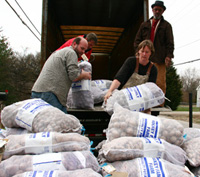 Every year Cultivate Kansas City puts together a combined order from Potato Garden for area growers so you can get certified organic and certified natural potatoes at a bulk rate. The minimum is 50 pounds per order. The order typically is announced in early January, placed at the end or January and arrives to Kansas City in the end or March. The 2013 bulk order included 50 participants ordering 4,895 pounds of seed potatoes.
Collaborative chicken manure order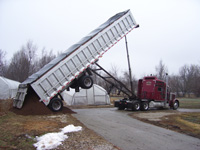 Every winter Cultivate Kansas City places a cooperative order of organic fertilizer in the form of pelletized chicken manure. This product is "Omri listed" for organic production. 5–3-2.5 guaranteed analysis. If you are looking for large quantities, please contact info[at]cultivatekc.org. For smaller quantities for your home or community gardens, contact our friends at Kansas City Community Gardens.