Food Forest Pilot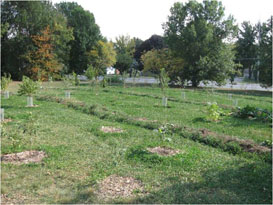 Here at Cultivate Kansas City, we have been growing annual vegetables for many years. We have worked with farmers throughout Kansas City to develop and share better growing techniques to make small-scale urban agriculture more profitable.
More recently, some of us have become interested in soil-conserving agriculture, first no-till vegetable production and now multi-story perennial food forests. For those farmers who are dependent on steady incomes from intensive vegetable production, these methods may sound impractical or difficult because they seem to require a lot of labor and/or knowledge, or in some cases produce a smaller harvest per acre than we have come to expect.
But the reasons to switch at least some of our land to soil-conserving techniques including food forests are powerful: less maintenance and inputs in the long run; soil conservation and carbon sequestration as well as insect and wildlife habitat. And perhaps food forests will one day become the way we plant our urban greenspaces and parks?
Cultivate Kansas City has received funding from the Audubon Society in Alliance with Toyota to take small steps toward converting a suburban quarter acre field from annual vegetable production to a food forest. We are starting from scratch, with little prior knowledge of perennial crops and learning as we go along. We have studied books to learn the basic principles of forest gardening and, more importantly, we have consulted with many local experts (including the Kaw Permaculture Collaborative, our friends at Powell Gardens and the Lawrence Fruit Tree Project).
The site for the Cultivate Kansas City food forest is located in Merriam, KS, just a few minutes from our main Gibbs Road Community Farm. We used to grow tomatoes, peppers, potatoes, onions, edamame and many other vegetables on the land until 2009. But the frequent trips for planting, watering, weeding, harvesting, etc. cost us a lot of time and energy, so the idea of a lower-maintenance perennial food system appealed to us. Now we are planting a small experimental food forest beginning with the canopy trees in spring 2011.
We hope to document our learning experience and share it with others. More information about the design process and the plants we will be growing at the Cultivate Kansas City food forest will be posted soon. Check this website for information.