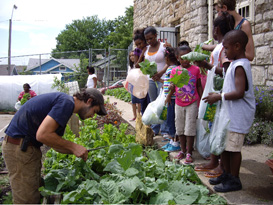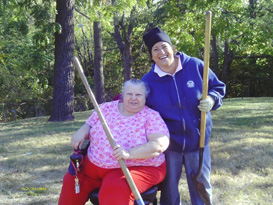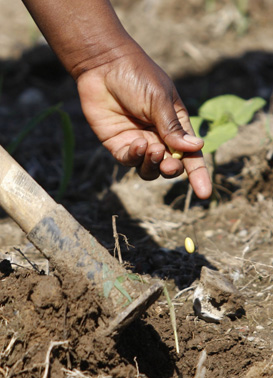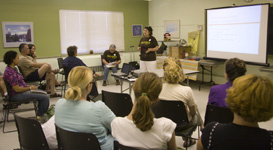 Get Growing KC Team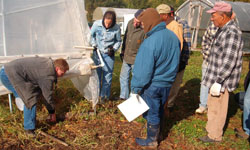 Do you want to start an urban farm on the vacant lot next door? Does your church have land you want to turn into a community garden? The Get Growing KC Team is here to help people grow and eat healthy food in our city neighborhoods!
We believe that a healthy food system includes farms and gardens of all sizes and types and that every neighborhood needs people growing food for themselves and to feed others. To meet this need, Cultivate Kansas City is working in collaboration with Lincoln University's Innovative Small Farmers' Outreach Program (ISFOP), and Kansas City Community Gardens (KCCG) to launch the Get Growing KC Team.
The Get Growing KC Team will work to:
Increase the number of urban farms, community gardens, school gardens, and home gardens in the Kansas City metro area;

Increase the number of people who know how to grow food and who can share their knowledge with others;

Establish long-term relationships between community based organizations, community leaders and farming/ gardening organizations that result in collaboration to use food production to promote health, develop communities, improve access to healthy food, and encourage business development; and

Establish a strong advocacy network for fresh food and eating healthy.
What can the team do for you?
Outreach and Education

- Team members are available to come talk to your group about the value of growing food in our neighborhoods and how you can get growing.

One-on-One Technical Assistance

- Urban farms and entrepreneurial food programs: Team members from Cultivate KC will provide personalized technical assistance to help you develop a farm that meets your goals and vision. The team will provide guidance as you search for land, sort through city codes, develop production plans and systems, and figure out marketing and small business management.

- Community gardens: Team members from KC Community Gardens will work with your group to figure out how to start, run, and grow a community garden in your neighborhood.

- Home gardens: Team members are experts in growing food and will help advise you as you start growing food in your own backyard.

- School gardens: Over the last few years, hundreds of schools across the country have found gardens to be invaluable educational resources for students of all ages. The team will make sure you are connected to the KCCG School Gardens staff and other resources available to you.

- Multi-faceted healthy food projects: Many communities and organizations have become interested in developing projects with multiple aspects to them. Team members with diverse expertise will work together to help you develop and implement a layered approach to growing, accessing, and eating good food in your community.

Workshops

- The team will offer targeted workshops such as "How to start a community garden" or "How to start an urban farm" based on successful curricula developed by Cultivate Kansas City and Kansas City Community Gardens.
Get Growing KC Mini-grant Info
For information contact info[at]getgrowingkc.org or visit their website or Facebook page.
Team Members:
Sherri Harvel, Cultivate Kansas City
Teresa Kelly, Cultivate Kansas City
Sharon Goldstein, Kansas City Community Gardens
Bobby Wright, Kansas City Community Gardens
Leadership:
Katherine Kelly, Cultivate Kansas City
Andrea Mathew, Kansas City Community Gardens
Katie Nixon, Lincoln University Cooperative Extension
Ben Sharda, Kansas City Community Gardens