Gibbs Road Farm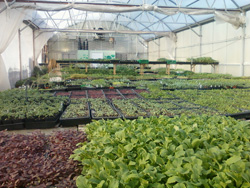 The Gibbs Road Farm (originally established in 1997 as Full Circle Farm) is a vegetable production farm sitting on two acres in southern Wyandotte County, Kansas City, Kansas. As Cultivate Kansas City's model and demonstration farm, we experiment with high tunnel, raised bed and no-till production; and offer technical assistance to other growers. The farm is, in most years, financially self-sustaining from sales of vegetables and transplants; some of our educational and demonstration activities at the farm are funded through local and national grants.
Toward that goal, the farm typically:
Produces 25,000 pounds of certified organic vegetables annually.

Maintains sales of $100,000 annually, establishing it as one of the area's largest vegetable producers.

Produces food for a 35+ member (CSA) program, as well as a winter production CSA.

Sells wholesale to several local restaurants.
Experimentation
All aspects of the farm's production planning, soil management, business management and supply sourcing are available as resources to other farmers. Gibbs Road Farm is a place of research and experimentation both independently and in cooperation with extension services with the goal of advancing vegetable production in the region in the most ecologically responsible manner possible.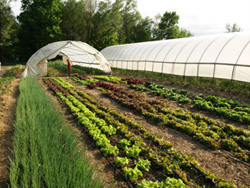 Year-round Food
Each year, the Gibbs Road Farm expands its late fall, winter and spring production through the use of high and low tunnels; striving to make fresh, local produce available year-round. This experimentation and innovation provides a model for other area growers interested in extending the growing season and increasing the sustainability of their farming operation.