We Grow Food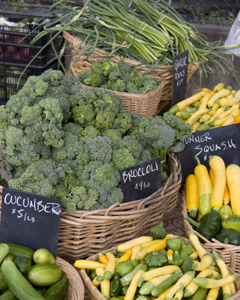 We are farmers. Our two-acre, certified organic vegetable farm, Gibbs Road Farm, is the basis for everything we do as an organization. We feed ourselves, we feed our families, we feed our customers, we feed the hungry. We work the soil, we plant, we weed, we harvest, we package, and we sell.
We believe that fresh, organic, urban grown food is at heart of transforming the health and well-being of our communities. As urban growers, we inspire others to become growers. When people grow food for themselves, they get exercise; they eat well and in turn inspire others to do the same!
We help people eat more healthfully. Every week at the markets and through our CSA, we talk with people about how to cook, and how to try new vegetables. Weekly shopping at the farmers' markets and getting their CSA bags of veggies helps people develop good eating habits; urban farmers like us support and reinforce healthy eating choices. Our KCK Greenmarket at Juniper Gardens supplies produce for low-income people, at higher risk of health and diet related diseases. The Healthy Food Team at Juniper Gardens, comprised of residents from the neighborhood, does cooking demonstrations and education in the community, helping fellow community members (re)learn how great local produce is.
Together we're growing the change.