What is Community Supported Agriculture?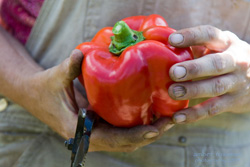 Community Supported Agriculture is a local food program and a partnership between a farmer and the farm's members. The farmer and the members agree to share in the cost and the risk of growing food and to share the bounty of harvest. Members pay for their share in late winter thus providing the farmer cash for seeds, supplies and equipment repair. The farmer then provides the season's freshest food to the members throughout the summer.
2013 CSA Information
The Gibbs Road Community Farm offers two CSA programs during the summer season: The Farm CSA and the Market CSA
Farm CSA
We have expanded the CSA to include the early and late season! Gibbs Road Farm is blazing a trail into the future and we invite you to join us. In our four years of fall and winter production, we've gained experience and now have confidence in our ability to offer CSA year-round.
We take our CSA commitment seriously. At Gibbs Road Farm, the CSA members eat first. That means you will get the first of the green beans, the first tomatoes, the first sweet potatoes, etc. We have found that although we have farmers market and restaurant commitments, too, we must take care of those who take care of us. We gain much through this relationship. If you join our CSA, we hope you will feel the same way. We offer volunteer days and host potlucks to our CSA members as well as other opportunities to participate within the organization. Your participation is optional, but encouraged, as we see that participation on the farm brings us closer together and closer to the community in which we strive to create.
We have one size CSA share. You can expect five to seven items in each bag. You will receive an email on Wednesday mornings describing the weekly bag and it will frequently include recipes and other preparation ideas.
We offer three sessions. You may opt into any or all of them.
Session 1, Early season begins on March 6 and runs through May 29. $299 plus tax.
Session 2, Mid-Summer begins on June 5 and runs through August 28. $299 plus tax.
Session 3, Late season begins on September 18 and runs through December 18. $322 plus tax.
Pick up options are on Wednesdays at the farm from 1-7pm (4223 Gibbs Road, KCK 66106) or on Wednesdays at the First Lutheran Church at 6400 State Line Road from 3:15-3:45 pm (Session 1 and Session 3 only), on Saturdays at the Brookside Farmers' Market from 8am-1pm or home delivery for an additional fee of $70/session.
Market CSA
The Market CSA program provides a very flexible way to participate in Community Supported Agriculture. The Market CSA share cost starts at $200 (and up), which we add 10 percent to give you $220 of spendable "veggie cash" at our stand at local farmers markets. Members come to market and select their veggies. The Market CSA is similar to the Farm CSA in that a commitment and payment is requested by late winter, but is different in that a member chooses what vegetables to take home. Please contact alicia[at]cultivatekc.org to join.
Seasonal produce in your CSA bag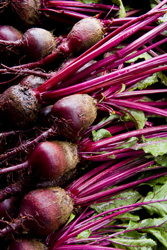 March – late winter veggies including lots of spinach, salad mix, microgreens, turnips, carrots, beets, salad mix and herbs.
April – Spring into warmer temperatures, so you can expect the first of the kale, Swiss chard, microgreens, kohlrabi, fennel, herbs, carrots, turnips, collard greens, bok choi, Funky Fresh stir-fry mix and other surprises.
May – Cool weather favorites including kale, Swiss chard, collards, spinach, Funky Fresh, scallions, kohlrabi, salad mix, micro greens, carrots and beets.
June – Brings warmer temperatures and the field brings cucumbers, more greens, peas, fava beans, summer squash, new potatoes, cilantro and garlic scapes, more carrots and beets.
July – Finally! Summer! Tomatoes! Garlic! Peppers! Eggplant! Green beans! Onions, leeks, okra, more summer squash, potatoes, basil, carrots, beets, cucumbers, salad mix.
August – More summer vegetables, plus spaghetti squash, edamame, basil, lemongrass, dill.
September – Continued summer veggies and now, winter squash and sweet potatoes, and the return of cool season again…kale, chard, spinach, salad mix, microgreens carrots, beets
For additional information, or to inquire about becoming a member in the Gibbs Road Farm, please email alicia[at]cultivatekc.org.
For information about joining a CSA through the Juniper Gardens Training Farm, please contact Meredith Walrafen, New Roots for Refugees, at mwalrafen[at]catholiccharitiesks.org
For further information on local CSAs, check out the Kansas City CSA Coalition.