Join Session 3 Now!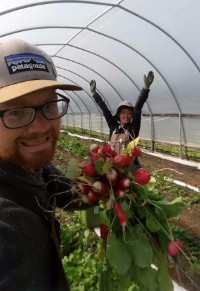 Community Supported Agriculture is a local food program and a partnership between a farmer and the farm's members. The farmer and the members agree to share in the cost and the risk of growing food and to share the bounty of harvest. Members pay for their share in late winter thus providing the farmer cash for seeds, supplies and equipment repair. The farmer then provides the season's freshest food to the members throughout the summer.
2016 CSA Information
This year, our CSA will run 39 weeks dividing the year into three, 13-week sessions. You are invited to sign-up for one, two or all three sessions. We take our CSA commitment seriously. At Gibbs Road Farm, the CSA members eat first. That means you will get the first turnips, the first carrots, the first kale, the first sugar snap peas, the first garlic, the first fava beans, the first green beans, the first tomatoes, the first sweet potatoes, you get the idea. We believe that although we have farmer's market and restaurant commitments, too, we must take care of those who take care of us. We gain much through this relationship. If you join our CSA, we hope you will feel the same way. We offer volunteer days and host potlucks for our CSA members as well as other opportunities to engage with your community through the organization. Your participation is optional, but very much encouraged as we see participation on the farm as crucial to the full CSA experience. Participation brings us closer together and closer to the community we strive to create. Participation is a vital component to food democracy. Before you sign up, we ask that you fully consider what Community Supported Agriculture is and what that means to you on a weekly basis..
CSA was begun in the 1980s by groups of folks who were looking for good food and by farmers who needed to sell their good food. Commitments were forged between the groups. Members prepaid for their share of veggies so that the farmer could pay for pre-season items like seeds, labor and supplies and in exchange, the members received weekly bags of the freshest produce available. The members understood they were agreeing to the risk that comes with such a close connection to their food. We operate our CSA in this same spirit. We ask you to understand that we do everything possible to provide a variety of produce to you weekly and most of the time, things work out perfectly. We ask you to understand that your favorite vegetables will share space with your less than favorite veggies and perhaps even some items you've never seen before. Not to worry. We'll be here with you through it all. We take the commitment as seriously as we ask you to take it. We have one size CSA share. You can generally expect five to seven items in your weekly bag. When there is great bounty, we share extra. When there is less than great bounty, we will share what we have. We believe you will find the CSA to be of good value and we do everything possible to keep you satisfied. You will receive an email on Wednesday mornings describing the weekly bag and it will frequently include recipes and other preparation ideas as well as snippets of details about what's going on at the farm and invitations to participate with organization. Since the sessions run back-to-back, we cannot offer skips or make-ups. We encourage you to share a bag you are unable to use with family, a friend or neighbor. If you give notice by Monday morning week-of, then we can provide you a certificate worth $25 to be used at the Brookside Farmer's Market tent on any Saturday morning through-out the season. We can do this once each session.
Market CSA The Market CSA program provides a very flexible way to participate in Community Supported Agriculture. Market CSA members come to the farmer's market on the Saturdays they choose, select veggies they desire in amounts that make sense to their households. The Market CSA is similar to the Farm CSA in that commitment and payment are requested in late winter, but is different in that a member chooses what vegetables to take home and chooses the weeks to shop. The Market CSA share starts at $200, to which we add 10 percent value providing spendable "veggie cash" at our stand at the Brookside Farmers Market on Saturdays, April through November. Please contact info@cultivatekc.org to join.
Seasonal produce in your CSA bag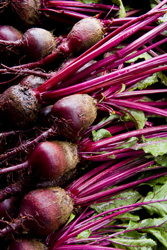 March – late winter and spring veggies including spinach, salad mix, mustard microgreens, sunflower microgreens, radish and turnip greens, turnips, carrots and beets.
April – Spring into warmer temperatures, so you can expect the first of the kale, arugula, Swiss chard, microgreens, herbs, head lettuce, carrots, turnips, beets, radishes, broccoli raab, Chinese broccoli, collard greens, bok choi, and other surprises.
May – Depending on the weather and temperatures… kale, Swiss chard, collards, microgreens, the last of the spinach, scallions, fennel, sugar snap peas, fava beans, spring garlic, garlic scapes, kohlrabi, salad mix, micro greens, carrots, the first of the potatoes and perhaps a tomato or two.
June – Brings warmer temperatures and the field brings cucumbers, more greens, microgreens, peas, filet beans, cabbage, summer squash, new potatoes, herbs, tomatoes, herbs, more carrots, turnips and beets.
July – Finally! Summer! Tomatoes! Garlic! Peppers! Eggplant! Green beans! Onions, leeks, microgreens, tomatillos, more summer squash, potatoes, basil, celery, carrots, beets, cucumbers, salad mix and herbs.
August – More summer vegetables, plus okra, edamame, basil, lemongrass, dill, other herbs, and always, microgreens.
September – The best of all seasons…continued summer veggies and now, winter squash and sweet potatoes, and the return of cool season again…kale, chard, spinach, salad mix, carrots, beets, turnips.
October – The last of the beans and tomatoes, but lots of spinach. The last of the sweet peppers, but lots of arugula. The last of the eggplant, and lots of sweet potatoes. Bok choi, turnips, sweet carrots, beets, microgreens, potatoes, and herbs.
November – Carrots like you've never eaten, turnips, beets, radishes, lots of spinach, microgreens of all kinds, kale, Swiss chard, collard greens, bok choi, sweet potatoes, herbs, arugula, salad mix, baby fennel, and potatoes.
December – Spinach. Kale. Sweet potatoes. Turnips. Beets. Carrots. Microgreens. Arugula.
For additional information, or to inquire about becoming a member in the Gibbs Road Farm, please email josh@cultivatekc.org. For information about joining a CSA through the Juniper Gardens Training Farm, please contact Meredith Walrafen, New Roots for Refugees, at mwalrafen@catholiccharitiesks.org For further information on local CSAs, check out the KC Food Circle.