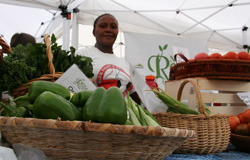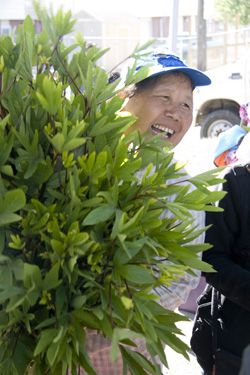 Food from the Juniper Gardens Training Farm
Juniper Gardens Training Farm growers sell their fresh vegetables during the growing season at ten local farmers markets in the area. One market is the KCK Greenmarket at Juniper Gardens, a market started in 2009 adjacent to the training farm. Through a partnership with the Beans&Greens program and the Family Conservancy's Healthy Parents Healthy Kids program, Cultivate Kansas City hires a Healthy Food Team to offer cooking demos and other special events and services at the market and throughout the neighborhood.
Farmers in our New Roots for Refugees programs grow some vegetables that are native to their home countries. To learn more about the unusual crops you might find at their market stands, check out the Veggie ID page on their blog.
Find New Roots for Refugees farmers at local markets
KCK Greenmarket at Juniper Gardens

Mondays, 9am-1pm, June - September
Corner of 3rd Street & Richmond Avenue, Kansas City, KS

KCK Greenmarket at Catholic Charities

Tuesdays, 9am-1pm, June - September
2220 Central Avenue, Kansas City, KS

KCK Greenmarket at Strawberry Hill

Wednesdays, 8am-1pm, June - September
6th & Tauromee, Kansas City, KS

Downtown Overland Park Farmers Market

Wednesdays and Saturdays, 7:30am-1pm, April - October
On Marty between 79th & 80th Streets, Overland Park, KS

Waldo Farmers Market

Wednesdays, 3pm-7pm, May - September
303 W 79th Street, Kansas City, MO

Green Acres Farmers Market

Thursdays, 3pm-7pm, June - September
4175 Mulberry Drive, Kansas City, MO

Ilus Davis Farmers Market

Thursdays, 10am-1:30pm, June - September
11th Street & Oak, Kansas City, MO

Northeast Farmers Market at Don Bosco Center

Fridays, 11am-1pm, June - September
Independence Avenue at Garfield, Kansas City, MO

Brookside Farmers Market

Saturdays, 8am-1pm, April - October
63rd & Wornall, Kansas City, MO

Merriam Farmers Market

Saturdays, 7:30am-1pm, May - September
5701 Merriam Drive, Merriam, KS