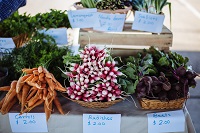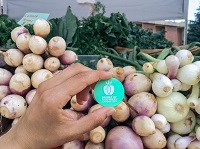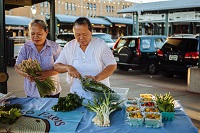 National Farmers Market Week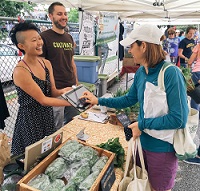 Double Up Food Bucks Kansas City is in full swing at farmers markets in the Kansas City metro and we're celebrating with our community partners during National Farmers Market Week Aug. 7-13. 
Now more than ever, farmers markets serve as anchors across communities nationwide, positively influencing community health and wealth. Every market contributes to more viable regional economies and local farm businesses, increased access to fresh, nutritious food, and stronger social networks that help keep communities healthy.
Double Up Food Bucks is a healthy food incentive program that helps low-income families purchase more fresh fruits and vegetables and supports local farmers. Cultivate Kansas City manages the program at 18 markets across the KC metro and is excited to drive home the importance of local, healthy and sustainable food systems accessible to all residents of Kansas City.
We're excited to celebrate this program at all of the markets we manage, including several that have lots of special activities planned. Join these celebrations or find a farmers market in your neighborhood and go shopping!
Thursday, Aug. 11 | 3-6 p.m.

Martha Haehl and her jam
Cooking demontrations
Kids Center with Danya McDaniels

Saturday, Aug 13 | 9 a.m. - 1 p.m.

Dublin Harpers: https://www.facebook.com/dublinharpers/
Cooking demonstrations with Daryl Jones
Kids Center with Danya McDaniels

Saturday, Aug. 13 | 9 a.m. - 11 a.m.

Live music, market tours, cooking demonstrations, and photo opportunities with the Royals Moose Mobile!

Saturday, Aug. 13 | 7 a.m. - 1 p.m.

Raffle, farm basket