Make a Donation

Share in the simple joys of providing fresh, healthy food for all Kansas Citians!
When you donate to Cultivate Kansas City, a 501(c)(3) charitable organization, you make a REAL DIFFERENCE. You can help: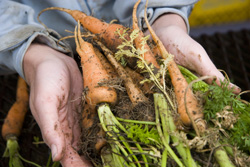 • Make good food accessible to people living in neighborhoods with no grocery stores
• Train and support a farmer who wants to grow food in our city
• Start community food projects to teach, feed and inspire
• Feed families fresh food
• Teach children the joys of good food
• Help Kansas City be a healthy place to live, work and play
Join us in creating sustainable, healthy neighborhoods with urban farms producing fresh, accessible local food not only for today, but far into the future as well.
Please make checks payable to "Cultivate Kansas City" and mail donations to:
Cultivate Kansas City
4223 Gibbs Road
Kansas City, KS 66106
Donate to Cultivate Kansas City online! Click here to visit the Greater Kansas City Community Foundation's DonorEdge Website, browse our organizational profile and make a secure donation or click here to make a donation through Network for Good.
To learn more about any of our giving programs, call Jill Erickson at 913-601-5005 or jill[at]cultivatekc.org.
Memorial and Tribute Gifts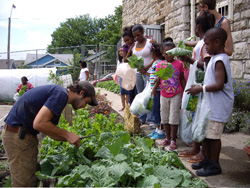 What better way to honor someone you love than to share the joy of doing good work in your city? A tribute to Cultivate Kansas City can give someone special recognition while supporting urban agriculture and all of its benefits for Kansas City.
We will send a letter to those you request letting them know about your gesture, keeping the amount of your gift confidential if necessary. Also, please remember Cultivate Kansas City in your Estate Planning.
We can provide donation envelopes for funerals, memorial services, birthday parties, etc. A list of donor names will be compiled and provided to a designated party. All donors receive receipt letters. All donations to Cultivate Kansas City are tax deductible.
Please contact Jill Erickson at 913-601-5005 or jill[at]cultivatekc.org for more information.