Donate Today!
Share in the simple joys of providing fresh, healthy food for all Kansas Citians!
Become a Friend or Monthly Donor Today!
Friends of Cultivate are supporters who have donated $250 or more in the
past year. Monthly Donors help support Cultivate Kansas City by giving on a
reoccurring basis. These donations allow us to fund our operations and
predict our cash flow. They help us be a better organization overall. Thank
you to these stellar friends who help us do what we do best.
______________________________________________________________________
Andrea Shores
Angela Cronk owner of Hagoyah
Anna Busenbark
Annabelle Eason
Bill Cutler
Bob Merrigan
Brenda and Dan Kumm
Clare and Ryan Shaw
Corliss and Joe Jacobs
Damian Mitchell
Dan Cosgrove
Daniel Schulte owner of Market Vineyards
David Smith and Krista Calvert
Dr. Michelle Robin owner of Your Wellness Connection
Donnie Morehouse
Friends and Family of Blake Exposito
Greg Pasley
Gwen and Tim Wurst
Hannah and Brandon Hidaka
Jeff and Suzanne Henkle owners of Nature's Own
Jim and Suzanne Lammert
Jim Horlacher provider of #GivingTuesday Match from First Affirmative Financial Network
Jim Nolan
Karie Fahrenholz of KC Local Week
Kaitlyn McGraw and Jake Nickel
Laura Brady
Laura Robinson
Mary Lally
Marcy Vanlandingham
Maureen Scully
Michele and Jim Stowers
Molly and Dan Bebee
Nicola Heskett
Patti Banks
Paula Champion
Pete Malone
PJ Quell and Larry Davis
Ray Domino
Rhonda and Michael Orndorff
Roberta Lyle
Robin and John Maiale
Roxanne Hidaka
Roxanne Hutton
Sandy Tang
Sarah and Patrick Faltico
Shannon and Reggie Berry
Steve Paul
Susan and Jan Creidenberg
Susan Johnson
Tiana Starke
Vicki Reisler
Virgina Stowers
_________________________________________________
***A monthly gift of $21 or more makes you a Monthly Donor and Friend of Cultivate Kansas City.
When you donate to Cultivate Kansas City, a 501(c)(3) charitable organization, you make a REAL DIFFERENCE. You can help:
• Train and support a farmer who wants to grow food in our city
• Make good food accessible to people living in neighborhoods with no grocery stores
• Start community food projects to teach, feed and inspire
• Feed families fresh food
• Teach children the joys of good food
• Help Kansas City be a healthy place to live, work and play
Join us in creating sustainable, healthy neighborhoods with urban farms producing fresh, accessible local food not only for today, but far into the future as well.
Please make checks payable to "Cultivate Kansas City" and mail donations to:
Cultivate Kansas City
4223 Gibbs Road
Kansas City, KS 66106
Donate to Cultivate Kansas City online! Click here to visit the Greater Kansas City Community Foundation's DonorEdge Website, browse our organizational profile and make a secure donation or click here to make a donation through Network for Good.
Memorial and Tribute Gifts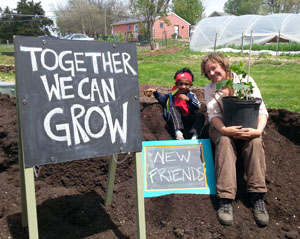 What better way to honor someone you love than to share the joy of doing good work in your city? A tribute to Cultivate Kansas City can give someone special recognition while supporting urban agriculture and all of its benefits for Kansas City.
We will send a letter to those you request letting them know about your gesture, keeping the amount of your gift confidential if necessary. Also, please remember Cultivate Kansas City in your Estate Planning.
We can provide donation envelopes for funerals, memorial services, birthday parties, etc. A list of donor names will be compiled and provided to a designated party. All donors receive receipt letters. All donations to Cultivate Kansas City are tax deductible.