Donate Today!
Share in the simple joys of providing fresh, healthy food for all Kansas Citians!
Become a Friend or Monthly Donor Today!
Friends of Cultivate are supporters who have donated $250 or more in the
past year. Monthly Donors help support Cultivate Kansas City by giving on a
reoccurring basis. These donations allow us to fund our operations and
predict our cash flow. They help us be a better organization overall. Thank
you to these stellar friends who help us do what we do best.
______________________________________________________________________
MONTHLY DONORS
Adrienne Baxter
Molly Bebee***
Anita Blumenthal***
Hannah & Brandon Hidaka
Roxanne Hutton***
Donnie Morehouse***
Daniel Nash
Jacqueline O'Brien
Amanda Owen
Alex Richardson
Tiana Starke***
Ashley Watts***
Schuyler Whiteley
Ann Willoughby***
Julie Wittman
Linda Zesch
______________________________________________________________________
FRIENDS OF CULTIVATE KANSAS CITY
Judy Ancel
Rania Anderson
Lynne Beaver
Molly Dan Beebe***
Bob and Libby Berkebile
Jerry and Lisa Bernard
Shannon and Reggie Berry
Mary and Tom Bloch
Anita Blumenthal***
Laurie Bomba
Jeanne Brandmeyer
Bob Brown
Grant Burcham
Jennifer Cawley
Lorelei Dean
Colleen Dougherty
Peter Engelman
Debra Filla
Tom and Mary Garbach
Patty Gilmour
George Helmkamp
Linda Hezel
Andrea Hill
Tina and Craig Hoover
Jim Horlacher
Roxanne Hutton and Mark Otterstrom***
Corliss and Joseph Jacobs
Susan and Eric Johnson
Linda and Bryan Johnson
Jennifer Johnson
Ross Jory
Dr. Bethany and David Klug
Brenda and Dan Kumm
Suzanne and Jim Lammert
Gwen Locher
Laura Lutz
Tiffany Lynch
Robin and John Maiale
Kathy and Pete Malone
Carrie McDonald and Michael Fabrizio
Candace and Charles McDowell
Donnie Morehouse***
Kimi Nelson
Julie Nelson Meers
John and Mary O'Connor
Phil Pisciotta
Dana Posten
Jennifer Powell
Vicki Reisler
Daniel Schulte
Joann Schwarberg
Andrea Shores
Tiana Starke***
Michele and Jim Stowers
Erin Stuky
Erika and Kevin Sweeney
Rebecca Turner
Marcy Vanlandingham
Jami Waggoner
Ashley Watts***
Deborah and Kevin Wilkerson
Suzanne Willey
Ann Willoughby
Greg Woodhams
Gwen and Tim Wurst
Amy Wurst
______________________________________________________________________
***A monthly gift of $21 or more makes you a Monthly Donor and Friend of Cultivate Kansas City.
When you donate to Cultivate Kansas City, a 501(c)(3) charitable organization, you make a REAL DIFFERENCE. You can help:
• Train and support a farmer who wants to grow food in our city
• Make good food accessible to people living in neighborhoods with no grocery stores
• Start community food projects to teach, feed and inspire
• Feed families fresh food
• Teach children the joys of good food
• Help Kansas City be a healthy place to live, work and play
Join us in creating sustainable, healthy neighborhoods with urban farms producing fresh, accessible local food not only for today, but far into the future as well.
Please make checks payable to "Cultivate Kansas City" and mail donations to:
Cultivate Kansas City
4223 Gibbs Road
Kansas City, KS 66106
Donate to Cultivate Kansas City online! Click here to visit the Greater Kansas City Community Foundation's DonorEdge Website, browse our organizational profile and make a secure donation or click here to make a donation through Network for Good.
Memorial and Tribute Gifts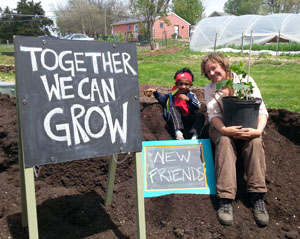 What better way to honor someone you love than to share the joy of doing good work in your city? A tribute to Cultivate Kansas City can give someone special recognition while supporting urban agriculture and all of its benefits for Kansas City.
We will send a letter to those you request letting them know about your gesture, keeping the amount of your gift confidential if necessary. Also, please remember Cultivate Kansas City in your Estate Planning.
We can provide donation envelopes for funerals, memorial services, birthday parties, etc. A list of donor names will be compiled and provided to a designated party. All donors receive receipt letters. All donations to Cultivate Kansas City are tax deductible.