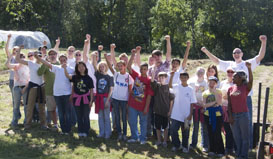 Get Your Hands Dirty
Interested in learning more about urban agriculture? Want to meet others who share your passion for food? Excited to see where your tomatoes come from? Cultivate Kansas City offers a wide range of opportunities for volunteers- from working in the field, helping at events, to assisting in the office- WE NEED YOU!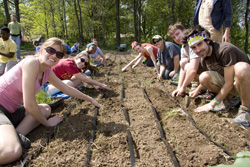 Work the Farm Volunteer Days
Work the Farm days offer an opportunity to get your hands dirty alongside our farm crews. Join a crew at Juniper Gardens Training Farm on the first Saturday of the month during growing season (April through September).. To sign up, click here. If you would like to join our email list to receive notice about volunteer opportunities, click here. 
Farmers & Friends
Want to gorge on homemade pie and schmooze with farmers? Volunteer to help at our annual Farmers & Friends event on Saturday, February 3, 2018. Farmers & Friends is about growing together as a community around local food. There are workshops on farming topics and two potluck meals. Sign up here.to help. 
Volunteer for the Urban Grown Tour
Volunteering your time during the Urban Grown Tour is the best way to forge a deep relationship with the urban grown movement. Volunteers will be responsible for ticket sales and greeting participants. In return for a three hour shift, volunteers receive a ticket to the tour, an exclusive t-shirt, and a life-long relationship to a farm site growing food for your table. Sign up here.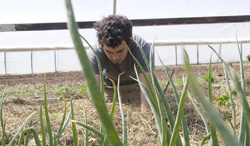 Volunteer Waiver and Photo Release
All volunteers are required to sign a Volunteer Waiver of Liability and Photo Release. Click here to complete it online.