Get Your Hands Dirty - volunteer with us!
Interested in learning more about urban agriculture? Want to meet others who share your passion for food? Excited to see where your tomatoes come from? Cultivate Kansas City offers a wide range of opportunities for all kinds of volunteers.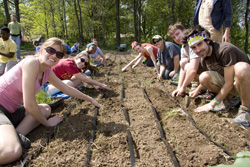 As a volunteer with Cultivate Kansas City you could:
Help the field crew harvest beans for our weekly farmer's markets

Wash dirt off fresh carrots for our Community Supported Agriculture shares

Weed potato, cucumber, squash other vegetable beds to help them flourish

Help out in the office to keep things running smoothly
The sense of accomplishment from supporting a healthier, more vibrant community makes volunteering with Cultivate Kansas City an enjoyable and rewarding experience!
Gibbs Road Farm Volunteer Opportunities
Work the Farm Days: On the 2nd and 4th Saturdays of every month, we host "Work the Farm" volunteer days at our Gibbs Road Farm from 9am to noon. Individuals and groups of all experience levels are welcome! Come on out and get your hands dirty while you learn the fundamentals of urban farming.
Both individuals and groups can check availability for dates and sign up online with our Sign Up Genius form. If you have questions, please contact Ami Freeberg at ami[at]cultivatekc.org or 913.944.5639.
Volunteer Leadership Program: We offer a unique volunteer opportunity for individuals interested in being a leader, gaining a deeper understanding of farming in the city and developing more growing skills. Qualified individuals will work and learn side-by-side with our Gibbs Road Farm's field crew.
Due to the intensity of the work and higher level of hands-on training, this program has the following requirements: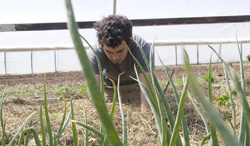 Minimum three month commitment

Ability to work outside, sometimes under extreme conditions, for extended periods of time

Appropriate Dress: closed-toed shoes and pants

Sorry, no pets or young children
Volunteers who fulfill their minimum three-month commitment will have an opportunity to work with our staff as a Volunteer Leader at Saturday Work the Farm days and will receive special recognition from our staff and crew.
To apply for this program, please download this application, fill it out and email to volunteering[at]cultivatekc.org.
Organizational Volunteer Needs
At Cultivate Kansas City we also need volunteers to assist us with many activities:
Administrative tasks like filing, data entry

Maintenance and greenhouse improvements
Please call Ami Freeberg at (913)-944-5639 or email volunteering[at]cultivatekc.org to contribute your skills to our growing organization or with any questions about volunteering. We greatly appreciate your interest and support!