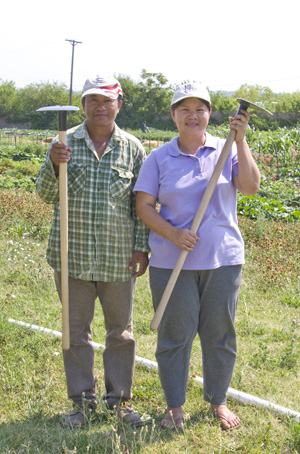 Wish List
As a rapidly growing organization, we welcome support and contributions in many forms. Cultivate Kansas City is a 501(c) tax-exempt organization and your donations, both financial and in-kind, are tax-deductible.
Our current wish list includes:
$50
Packaged seeds and gardening supplies to share with other growers

Wheelbarrow

T-post driver
$100
New garden hoses

Twelve new "Rubbermaid Roughneck" 18-gallon totes

25 T-posts for tomato and other vining crops trellis support
$250
Market tent (EZup, available at Sam's Club)

Two backpack sprayers for spraying organic pesticides

Wheel hoe and attachments
$500 - $1,000
Constructing a high tunnel that we have pieces for ($800)

New plastic pallets for greenhouse benches ($600)

Shade cloth for our two big high tunnels ($400 each)

Worm composting start-up kit ($500)
$1,000 - $1,500
Used front loader/Bobcat ($1.000)

Washstand rennovation ($1,000)
And as always, we welcome financial contributions to help us continue our important work growing Kansas City's urban farmers and local food system.
Please contact Jill Erickson at jill[at]cultivatekc.org or (913) 601-5005 with questions or to help us fulfill our wish list