Huns Garden - Our story
I am one of the many people who received technical assistance for my urban farm from Cultivate Kansas City, and this letter is to thank you for your support of the organization and its good programs.
We started growing for our health and for exercise. We were getting sick from foods we bought. We have four children and we want them to have good food. At first my wife put the vegetables in the backyard and then I saw another plot for sale and I bought it. It took a couple of years to get it going. But that was the start of my farm, Huns Garden in 2004.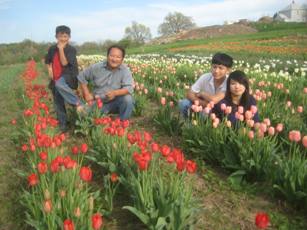 In 2005, we heard about Cultivate Kansas City, which was KCCUA back then, and joined the program. I wanted to find ways to grow specialty crops in the Midwest. Daniel worked with me and helped me write a NCR-SARE Grant that funded a project to introduce bitter melon in the Midwest using straw and high tunnels. In 2007, we worked on another grant experimenting with growing ginger. We experimented and shared the results of our work. Now these crops are grown all over KC by urban farmers.
Our four children help on the farm and each has something they enjoy, like my daughter, she likes to help harvest the flowers for market. Sometimes they look and say, I don't want to do anything. But I watch them learn to follow directions, they learn patience and they are using their math and computing skills in real practice.
My wife and I both farm full time now. Cultivate Kansas City helped us promote our farm and helped us connect with the urban farming community. We were on the first Urban Farms tour in 2005. They provide a community greenhouse at the Gibbs Road Farm where we rent space. This helps so much especially with our transplants, and our ginger.
I think people should know more about their food. Local eating provides proper nutrition for local people, but most city people don't know what a lettuce plant looks like. But I see there is a lot of improvement today; there is a lot of change now because of Cultivate Kansas City. People are learning what is junk and what is good food. Our customers can tell the difference. They care about taste and health, too.
I think farmers are very important to our local health and organizations like Cultivate Kansas City help educate people in authority so they can understand all of the issues we farmers face in our communities.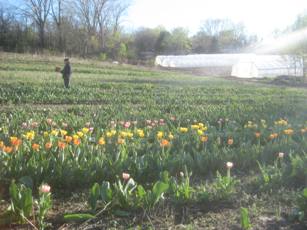 Supporters of Cultivate Kansas City made this possible. You are one of those wonderful people! We try to give back to by helping to teach other farmers. I have served on the board and we participate in workshops and tours and workdays.
Cultivate Kansas City needs your help to support its programs that help farmers just like me. There is still so much to do. I hope you will think about making a gift this spring. There are lots more people like me and my family who hope so much to be farmers and offer good food to others. For us, it has been a dream come true. Cultivate Kansas City makes it happen. Thank you again.
With appreciation,
Pov Huns
Huns Garden
Kansas City, KS