About the Tour
We're sprouting our plans for the fifth biennial Urban Grown Farms & Gardens Tour. With more sites than ever, engaging learning opportunities for all ages, and an expanded focus on enjoying the bounty (i.e., eating good, honest food), this tour promises to be the best yet!
You're invited. Mark your calendar for the 2013 Urban Grown Tour! Bring your friends and family, this tour is for everyone.
Urban Grown activities begin June 15
Tour: Saturday & Sunday, June 22 & 23, 2013
10 AM – 5 PM
We're growing. Explore a record number of 60 sites this year! That's 60 local growers, all with unique sites, crops and farming techniques that they can't wait to show you. Many are new to the tour this year.
A perfect fit. Gardening isn't one size fits all, but there's certainly something for everyone. Market farms. Community gardens. School gardens. Charitable gardens. Home gardens. Kids' gardens. Prepare to be inspired to participate in the urban food movement.
Cultivate the Change. The 2013 Urban Grow Farms & Gardens Tour challenges you to Cultivate the Change! Learn about ways you can become involved to create healthy change in our community's food system.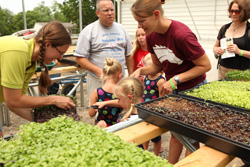 You'll learn how as you…
Experience the farms and gardens on tour

Learn through workshops, speakers, films, and other educational opportunities

Enjoy farm-fresh bounty at cooking demonstrations and participating restaurant sponsors

Celebrate the grassroots change taking place right here in our own community!
Get involved. While Fall's harvest is winding down, planning for next year's tour in full swing. If you're passionate about supporting fresh, healthy, local food within our community, grab a shovel and dig in. We need all types of talent, so lend us your hand.
A week of celebration. It's more than a tour. Food, hands-on learning experiences, films, music, community pride…it's a party for the senses and the soul! And just wait until we unveil this year's keynote speaker. We think you're going to be excited.
While we're busy working on this year's tour booklet, you can check out our 2011 Tour Booklet here!