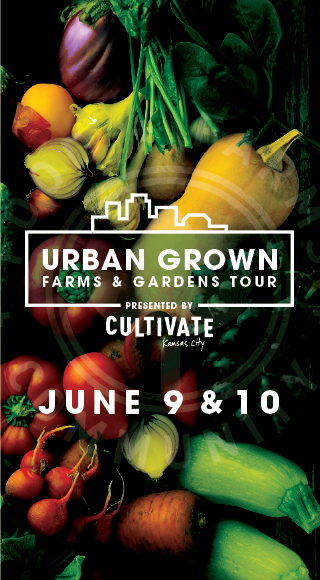 Urban Grown Farm & Gardens Tour 2018
Cultivate Kansas City's Urban Grown Farms and Gardens Tour is an opportunity for the community to celebrate the inspirational farms and gardens throughout our city. 
Mark your calendars for this year's tour on June 9 and 10.
Explore 24 of Kansas City's urban farms and gardens that are growing food for your plate.
This self-guided tour is your chance to visit and learn from the diversity of food projects that are changing the way our city eats! 
Supporting events
Join us for a kickoff event with Tom Philpott, food and agriculture correspondent for Mother Jones, on the evening of Wednesday, June 6 at Mahaffie Farmstead & Stagecoach.
Then on Thursday, June 7, we'll be co-hosting a CSA Chef Showdown with Powell Gardens, where two local chefs will throwdown in a cook-off using ingredients from the CSA offered by Powell Gardens. Details for this event are being finalized. Check back soon for more details.
This year, Cultivate Kansas City is offering a Farm Crawl during the tour. Ticketholders for this additional event will receive a signature drink and food item from a local maker or grower at each of our three farm sites: Juniper Gardens Training Farm, Food Forest and Westport Commons Farm. 
Volunteer at the tour
We are looking for volunteers for this year's Urban Grown Tour.
Volunteering during the tour is the best way to forge a deep relationship with the urban grown movement. Volunteers will be responsible for ticket sales and greering participants. In return for a three-hour shift, volunteers receive a ticket to the tour, an exclusive event t-shirt and a life-long relationship to a farm site growing food for your table. Sign up here.
Interested in other volunteer opportunities? Go here to learn more.