Cultivate Kansas City Staff

Alicia Alferman, Administrative Assistant
alicia.alferman[at]cultivatekc.org, 913-831-2444
Inspired by her mom's green thumb and hard work, Alicia has tried repeatedly to improve her gardening skills. Her enthusiasm tends to come up short in the heat of July and August. BUT she cooks from scratch and is a dedicated advocate of local, organic, whole foods. She's a long-time admirer of Cultivate Kansas City and is thrilled to be helping their mission in any way she can.
Alicia is also an artist, photographer, and a wife and mother of two. She's trying her best to teach her kids the importance of family dinner and healthy food. She loves her people, her little dog, camping, hiking, and baseball.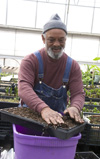 Sam Davis, Site Manager - Juniper Gardens Training Farm
sam.davis[at]cultivatekc.org, 913-952-4400
As a kid, Sam's family did share cropping throughout Arkansas before moving to Kansas. They always had a garden on the side of the house, so Sam learned about agriculture from his family. When he retired from work as a millwright, Sam started gardening again at his house. A friend liked what he was doing and asked him to help her out gardening at the Juniper Gardens Training Farm. Sam started hanging around during the first year of the program in 2008, and he liked the people and the program. People recognized his skills and asked him to do projects, at first as a volunteer and now as staff. Sam has his own plot in the community gardens at the Juniper Gardens Training Farm, which is a family project. His children and grandchildren are all involved in helping him grow and eat the food. His favorite part of the work is designing it – solving the problems of water drainage, figuring out how to make the soil generate better, among challenges. And, of course, he loves all the food he grows. "The garden keeps me alive because it gives me something to do. It keeps the body moving along with the mind at the same time."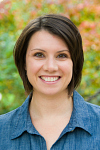 Kim Gasper, Development Director
kim.gasper[at]cultivatekc.org, 913-360-9709
Kim is a Kansas City native with a non-profit and marketing background. She grew up on food from the farmer's market, where her Grandmother went each week religiously. She is a regular of farmer's markets herself and has a great love of local food, cooking and the great outdoors. Kim is a true extrovert and never met a stranger! She has experience working with non-profits all over the country in a variety of development roles. She is a big fan of Kansas City and is passionate about our community and the local food system.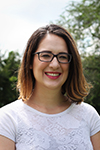 Sarah Jordan, Development Associate
sarah.jordan[at]cultivatekc.org, 913-601-5005
Sarah discovered a love for fresh, homegrown food in her grandfather's garden in New England. Her favorite was always when the sugar peas were in season, they would head over to the local dairy farm for some cream and eat a big bowl of peas and cream like cereal.
After graduating with a Bachelors Degree in Hospitality Management from the University of South Carolina, Sarah found herself working in the non-profit industry in Kansas City. Searching for a way to connect back to gardening and community food, Sarah discovered local farmer's markets and the great work of Cultivate KC. As a new homeowner in KCK, Sarah is excitedly starting a garden of her own and bringing her development experience with her to Cultivate. Sarah is responsible for writing grants and raising funds, working closely with members of our community to grow support for local farmers and food.

Katherine Kelly, Executive Director, Co-Founder
katherine.kelly[at]cultivatekc.org, 913-515-2426
Katherine grew up working on her neighbor's row crop and livestock farm outside of Wichita and became a backyard and community gardener when she moved to the Twin Cities and then Boston in the eighties and early nineties. She started her farming career as a field worker on organic farms in 1991 in the Boston area. She moved back to the Midwest in late 1996, where she started and ran Full Circle Farm for eight years. In 2005, she co-founded the Kansas City Center for Urban Agriculture, now Cultivate Kansas City. She has worked professionally since the early 1980s with grass roots community organizations in the Twin Cities, Boston, and Kansas City, doing program management, fundraising, marketing, financial management, and organizational development consulting. She co-founded the Growing Growers Training Program and the Farmers Community Market at Brookside.

Linda Siemens, Director of Finance & Administration
linda.siemens[at]cultivatekc.org, 913-203-0927
Linda grew up in Winnipeg, Canada, with a family that always had a garden, grew incredible vegetables, and served fresh salads every day of the summer. It was normal for her to take the hose, spray down just-picked carrots and enjoy the sweet snack right in the backyard. So when Linda and her husband Dan bought their first home, the first thing she did was dig up an area of the lawn and start growing. She hasn't looked back!
Together, they made the move to the Kansas City area in 2002, with Linda joining Cultivate Kansas City in the spring of 2014. She comes with a background in nonprofit administration and a Master of Social Welfare (MSW) in Administrative and Advocacy Practice. Her position helps support the technology, human resource, database, and financial needs of the organization, but Linda is sure to take plenty of walks through the fields in-between.

PJ Quell and Larry Davis, Volunteers Extraordinaire
We had our ah ha moment 15 years ago, watching my brother-in-law eat fresh fruit, but never without peeling it. It was our first inkling of pesticides, preservatives, and irradiation, with the realization that far off corporate farms filled our stomachs but did not nurture us with quality food. So we eagerly shopped at Wild Oats until we attended the first farmer's expo in the 90's. Ah ha again! Local food trumps organic trucked in from afar. We began shopping at the Barstow Market, and along with fresh produce, was a flyer to pull weeds at Full Circle Farm. That stirred in me (PJ) a longing to get my hands in the dirt. I came, I weeded, I realized I was too old for field work! But I was convinced that eating mindfully could change me and the world. When the Center for Urban Agriculture organized, we saw it could restore this relationship with our food that seems to have vanished. Long story short, we are 100% committed to helping the organization, now Cultivate Kansas City, succeed.
Board of Directors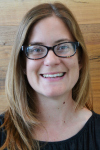 Laura Adams
Laura Adams is the practice lead for Green Infrastructure and Sustainable Planning at Black & Veatch. She is driven to co-create innovative solutions with the goal to revitalize communities, restore natural resources, and address climate resiliency. Inspired by Cultivate KC, Laura schemes in the garden with her son, Grey, who chooses vegetables with great names and with her husband, Jensen, to harvest honey and raise rabbits.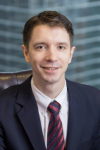 Jordan Baehr
Jordan is an attorney at Shook, Hardy & Bacon. Like many in KC, food and farming are centerpieces both of his own family history and of what it means to him to be a Kansas Citian. He has served as a volunteer and committee member with Cultivate KC, and is ever encouraged and excited to take part in Cultivate's work toward a healthy, practical, and equitable food system and future in Kansas City.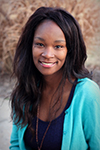 Shannon Berry, Board Chair
Shannon Berry is an investment analyst at American Century. Her journey as a food advocate started with the community garden plot in Boston. After tasting fresh vegetables, she started to research why everything tasted so much better fresh from the ground. She quickly realized that through food, she could address multiple challenges in her community, including health, community development, and civil rights. Since moving to Kansas City, she has been involved with Cultivate KC as a CSA member, volunteer, committee member, Treasurer, and now Board Chair. She is honored to work on empowering this city through Cultivate's work.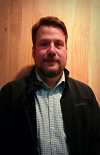 Bill Davison, Secretary
Bill works in strategic planning and transactions for Lendlease, an Australian company with operations in the United States. He got to know Cultivate Kansas CIty by attending the Dig In event (from its inception), through friendships with past and current Cultivate community members and, most importantly, as a regular purchaser of healthy, organic food at the Brookside Farmers Market.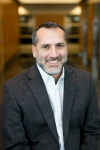 Corey Hampton
Corey Hampton is a marketing professional with more than 20 years of marketing, brand strategy and business development experience. He is the Vice President of Business & Strategic Development at VanTrust Real Estate. He earned his Bachelor of Arts in Communication from the University of Missouri – Kansas City. In addition to his involvement with Cultivate KC, Corey is active in the community and volunteers his time to the Kansas City, Missouri Committee of the Kansas City Chamber of Commerce and the board of directors of Revolve Community Bike Shop.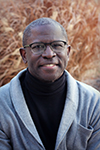 Keith Harris, PhD
Keith is an Assistant Professor Agricultural Economics at Kansas State University. He has experienced 30 years in food and agriculture as an industry practitioner and academic. Cultivate Kansas City's work represents his values of economic viability and environmental sustainability for the food system.

Emily Lecuyer, Treasurer
Emily Lecuyer is passionate about food systems because she believes that how we eat determines the kind of world we live in. She was introduced to Cultivate in 2010 while the organization was spearheading an effort to update KC's urban ag codes, which subsequently legalized her backyard chickens! Emily continued to engage with the organization as an apprentice in the Growing Growers program, while starting a community garden with funding from a Get Growing Mini Grant, and while managing New Roots for Refugees. Emily serves on the Executive Committee of the KC Food Policy Coalition and Missouri Confluence Waterkeeper. She has an MBA in Finance from UMKC and works as an analyst at Chess Ag Full Harvest Partners.

Pete Malone, Board Vice Chair
Pete is in market research at DEMDACO. He was attracted to Cultivate Kansas City because of an illness which motivated him to want to eat healthier foods -- primarily locally grown, organic greens! He wants to help promote a healthier food system to more people in the KC area.

John Sharp

Andrea Shores
Andrea works in corporate communications for Sprint, the telecommunications company headquartered in Overland Park, Kan. Introduced to Cultivate Kansas City in 2010 through her work with the Missouri Department of Agriculture, Andrea has since served the organization as a volunteer, Communications Committee member and chair, and supporter. As an advocate for sustainable, local agriculture, Andrea is often found shopping at the Brookside Farmers' Market or eating at area locally-owned restaurants.
Founding Board Members, 2005-2007
Chair
Tina Hoover, Community Volunteer
Secretary
Edward Carey, K-State Research & Extension, Vegetable Specialist
Treasurer
Sherri Harvel, Farmer/Owner Root Deep Urban Farm Kansas City, MO
John Kaiahua, Farmer/Owner J&J Produce, retired military, Raytown, MO
Kwang Kim, Farmer, Olathe, KS
Howard Lotven, Attorney
Lisa Markely, Nutritionist, Health Educator
Beverly Pender, Farmer/Owner, Soul & Soil Rainbow Gardens, KCK
Julie Xiong, Girls Scouts, KCK Greenmarket Director
Founding staff
Katherine Kelly, Co-Founder
Former owner of Full Circle Farm, a Kansas City, KS urban farm
Daniel Dermitzel, Co-Founder
Former Associate Director
Daniel co-founded the organization in 2005 and resigned in 2012 to pursue his interests in sustainability, agriculture, and urban planning in other settings. Daniel was a key leader in the organization, using his unique set of skills as a farmer, urban planner, educator, and editor. We know that he will be an asset to whatever roles he takes on next in his life and are grateful for the passion, skills, and energy he has shared with Cultivate Kansas City and the urban agriculture community. He can be reached at stadtbauer@gmail.com.