Policy & Advocacy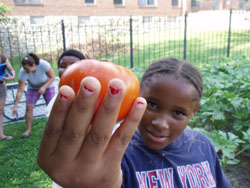 What we eat, how we eat it, and how we get it are shaped by public policies. Municipal zoning and development codes can support, or prevent, the growing of food in city neighborhoods. Health regulations at farmers markets can enhance or restrict the safe preparation and sampling of locally grown foods. Sales taxes on food, building codes and high tunnels, and state and federal supports and regulations of food production all play a factor in who gets access to food, how, and at what cost.
Cultivate KC participates in public policies in several ways: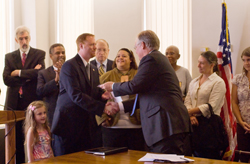 We take the lead on issues that most directly affect urban agriculture. In Kansas City, MO, we worked with members of the City Council, the Mayor, and the City Planning Department to craft and adapt ordinances affecting the growing and selling of food in residential neighborhoods. We also worked with a multi-agency, multi-organizational committee to organize the first ever "KCMO Food Summit" to bring together city staff and community leaders and resource people to address the questions of Kansas City, MO's food system.
We advocate for and with local farmers who are encountering challenges with city codes.
We are a resource for community members looking for information in analyzing and responding to city, state, and federal legislation on food and agriculture issues. While we don't always take an official organizational stance, we provide information on how the proposed issues may affect small and local farmers and their communities.