Tours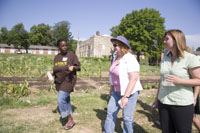 We welcome visitors to our Juniper Gardens Training Farm and our Gibbs Road Farm. The tours generally take 45-60 minutes and can be geared to the particular interests of the group. If you have more time, we are happy to give a tour and to engage your group in some kind of volunteer activities, so you get big picture and hands on experience! We ask a fee of $5.00 per person for tours, and groups must consist of 7 or more people. The tour fees help pay for the staff time giving the tour. To request a tour, please download and complete this form, then submit to taylor[at]cultivatekc.org.
Talks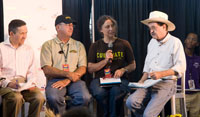 We love doing what we call "preaching the gospel of urban agriculture" and are happy to come visit your group. We can give talks on Cultivate Kansas City and urban agriculture, urban ag policy issues, models for urban food production and access, and basic farming/food information. We also offer a three-part series, "How to Start an Urban Farm" that goes from soil to production to marketing. Depending on the topic, the length of the talk, and the distance to your event, we ask fees between $75 and $500. These fees help with the cost of mileage, preparation time and presentation time.
To arrange for a staff member to present to your group, please download and complete this form, and email to taylor[at]cultivatekc.org.
Some of the groups we have presented to include:
Professional associations of urban planners, policy makers, governmental staff

Gardening clubs and master gardening groups

Neighborhood associations

Church and faith-based groups

Business clubs and associations

Schools (from grade school up through advanced degree programs)
For all talks and tours, contact us at info[at]cultivatekc.org.