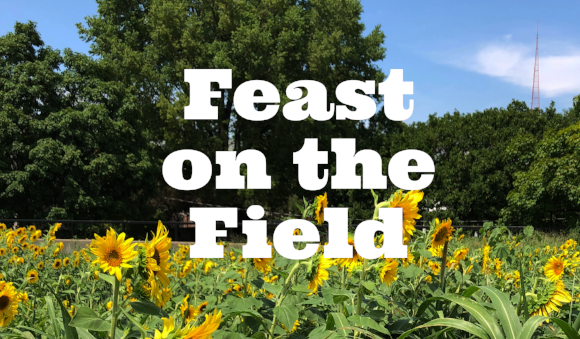 Sign up here to participate in our chow chip bingo fundraiser. Your donation and guess will enter you to win a raised garden bed donated by Missouri Organic Recycling. Simply make a donation and place your guess, then at the end of the event we will measure the results and draw a winner!
Cultivate KC invites you to
Feast on the Field:
Live Animal Grazing at Westport Commons Farm
Saturday, August 25, 2018
9:30 a.m. to 2 p.m.
Please park along the street or in the lot by the Sundry
Every party has a pooper, that's why we invited cows
Jersey cows and calves, ducks, chickens, rabbits and goats will be feasting on the field at our Westport Commons Farm and "contributing to the soil" as a demonstration of the role animals could play in our food ecosystem.
The animals will munch on Cultivate KC's cover crops, which include sunflowers, buckwheat, sorghum, corn and a variety of grasses. The crops were selected for qualities hat will improve the soil conditions of the former playing field, which will be turned into a productive, organic vegetable farm after several years of soil building and fundraising.
All the plant matter is intended to be plowed back into the ground, but not before the animals are able to snack on it and "contribute to the soil" themselves.
The animals will have a veritable feast on the field. 
The manure produced will add to the richness and diversity of the soil's microbiome, which, when thriving, will reduce soil compaction and improve the soil structure of this urban lot, which has been planted to a monoculture of grass and white clover.
Cultivate KC aims, through this event, to introduce urban residents to diverse soil building practices that are a critical part of creating an integrated and stable food system.
"Our goal is to improve the soil so when we do have the financing in place to start an urban farm, we've got great soil to start with." Dan Krull said. Krull is the farm manager of Cultivate KC's Westport Commons Farm.
"Over the next two years, we will be using a variety of strategies to enrich the soil, and this use of urban animals and some rural cows is a fun and educational way to do that while engaging our neighbors and friends."
Betty Rae's Ice Cream and El Tenedor will bring their trucks to give non-field grazers food options in the parking lot.
Come by and say hi (or moo or quack or cluck or baa) to our midtown guests!
Cows visiting from Brown Cows Farm. Goats visiting from Nile Valley Aquaponics.