Dr. Vandana Shiva visits Kansas City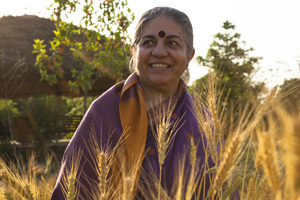 We are excited to share that Cultivate Kansas City is partnering with UMKC to host a 2-day visit by Dr. Vandana Shiva on Thursday, April 17 and Friday, April 18, 2014. Dr. Vandana Shiva is a physicist, ecologist, activist and author who is changing the way the world thinks about food, agriculture and sustainability.
Dr. Shiva's lecture, "Cultivating Diversity, Freedom and Hope" will address the value of diversity in nature and in society, as well how the monoculture of the mind can destroy that diversity at every level. She will share what is happening to seed and food, and how "Gardens Of Hope" protect Seed Freedom and Food Democracy.
Her message of local ownership and self-sufficiency in the production and distribution of food offers a powerful case for the development of urban and local food systems that we've seen in Kansas City over the last ten years; her deep understanding of sustainability challenges us to keep reaching across sectors, disciplines, and communities as we grow our regional food system.
Dr. Shiva is one of the world's most dynamic and provocative thinkers on issues of sustainability, development and agriculture. A physicist, ecologist, activist, and author, she and her non-profit organization – Navdanya – are leading the global battle against the chemical breeding of seeds by large corporations for global food production.
Navdanya, which means nine seeds, represents India's nine crops that collectively provide a healthy, organic and secure food source. Since 1984, Navdanya has worked to conserve and preserve organic seeds and push back against modified seed patents.
The organization has established 111 community seed banks, trained more than 500,000 farmers in seed saving and sustainable agriculture, and has actively raised awareness about the hazards of genetic-engineering. The nonprofit continues to educate the public on the atrocities associated with biopiracy and works to protect biological and cultural diversity.
While Dr. Shiva's work is based in India, she is a global advocate and activist for seed freedom and food sovereignty. She truly embodies the phrase "think globally, act locally," and will bring to Kansas City her wealth of knowledge and experience from around the world to inspire action in our community.
Learn more about Dr. Shiva's work:
Bill Moyers, Vandana Shiva on the Problem with Genetically Modified Seeds
New York Times – Room for Debate, Can Biotech Food Cure World Hunger?
The Guardian, 100 Top Women in 2011