Cooperative Resources
Community Greenhouse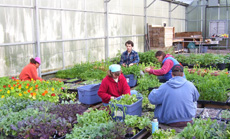 The Gibbs Road Farm is home to the Quell-Davis Community Greenhouse. This 6000 sq ft, one-of-a-kind greenhouse provides participating farmers an early start to the season while growing community. There are about 20 farmers (including our own) speaking over 10 languages growing transplants for their farms and for sale at market. We estimate that 100,000 transplants come out of the greenhouse annually, with the crops from the transplants supplying markets, CSAs, and numerous restaurants around the city. The diversity of farmers sharing a common space facilitates conversation and peer-driven learning every Spring. The current space is full.
Bulk Seed Potatoes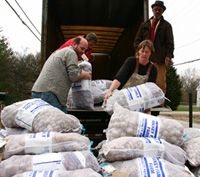 Every year Cultivate Kansas City puts together a combined seed potato order for area growers so you can get certified organic and certified natural potatoes at a bulk rate. The minimum is 50 pounds per order. The order typically is announced in early January, placed at the end of January and arrives to Kansas City in late March.                                                                                                                                                                                                                                                                                                                                                                                                                                                                                                                                                 
Collaborative chicken manure order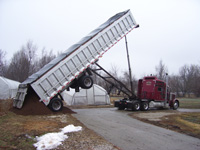 Every winter Cultivate Kansas City places a cooperative order of organic fertilizer in the form of pelletized chicken manure. This product is "Omri listed" for organic production. If you are looking for large quantities, please contact info[at]cultivatekc.org. For smaller quantities for your home or community gardens, contact our friends at Kansas City Community Gardens.