Gibbs Road Farm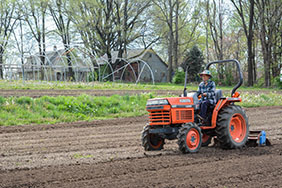 The Gibbs Road Farm (originally established in 1997 as Full Circle Farm) is a vegetable production farm sitting on two acres in southern Wyandotte County, Kansas City, Kansas. It has served as Cultivate Kansas City's model and demonstration farm. We have experimented with high tunnel, raised bed and no-till production; and have offered technical assistance to other growers. During most years, the farm has been financially self-sustaining from sales of vegetables and transplants. Some of the educational and demonstration activities at the farm are funded through local and national grants.
A Year of Transition and Growth
2017 is a year of reflection, change and growth for our Gibbs Road Farm. After 12 years of production, we are taking time to plan for a future that will ensure plentiful crops and educational opportunities about urban farming far into the future. Here's what's happening at Gibbs Road Farm this year:
Feeding Our Soil. To add nutrients to the soil and improve its structure, we have planted a cover crop on half of the farm property.

Scaling Up. Half of the Gibbs Road Farm land will be shared by three of our New Roots for Refugee farmers as a way to expand their production and help them learn to use tractors and equipment suitable for larger scale production.

Planning for the Future. We will facilitate an in-depth planning process to lay out a clear path for the future of the farm.
While you won't see a Cultivate KC booth at the Brookside Farmers Market, many of the New Roots Farmers will be there so please continue to visit.