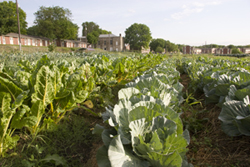 Juniper Gardens Training Farm
On eight acres of previously vacant ground near downtown Kansas City, KS, a green and productive space is growing. Juniper Gardens Training Farm is the home of Cultivate Kansas City's Farm Business Development Program. Local vegetable gardeners, whether they are resettled refugees or Kansas City, KS residents, can turn their green thumb into a small business, participating in up to five years of hands-on training including:
Workshops and demonstrations covering topics from garden pest control to marketing

Access to a ¼ acre plot on the training farm, soil preparation, farm equipment and supplies (area residents with land of their own can also enroll in the program and receive training in developing a small farm business)

Field walks with trained staff

Assistance with selling their product at local farmers markets
Farmers in the program commit to:
Attending workshops and classes

Saving a percentage of their sales for future farm business purchases

Selling at least 10 times at their assigned farmers markets

Selling vegetables through the New Roots for Refugees' CSA project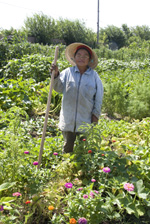 The goal for farmers in the program is to learn how to successfully grow in the Kansas City region and to acquire the marketing skills and confidence to become independent small business owners. In this way we hope to foster opportunities for economic growth; create access to fresh, nutritious, and locally grown food for residents of Northeast KCK, and to develop good environmental stewardship.
Juniper Gardens Training Farm is home to New Roots for Refugees, a collaborative program with Catholic Charities of Northeast Kansas and the Kansas City, KS, Housing Authority. The site also hosts a large community garden where Juniper Gardens Apartment residents and people from adjacent neighborhoods can grow food for themselves on a smaller garden plot. Sometimes those community gardeners move on to become market farmers and apply to the training program.
In addition, Cultivate Kansas City staff at Juniper Gardens Training Farm reaches out to public housing residents, community and neighborhood organizations, and other service agencies in the area to encourage awareness of the benefits of urban agriculture and to cooperate on joint projects that benefit the local residents and the environment.