Mini Grants contact:
Mark Gawron
Metro Farms and Food Systems
913-713-9264
Mark.Gawron@cultivatekc.org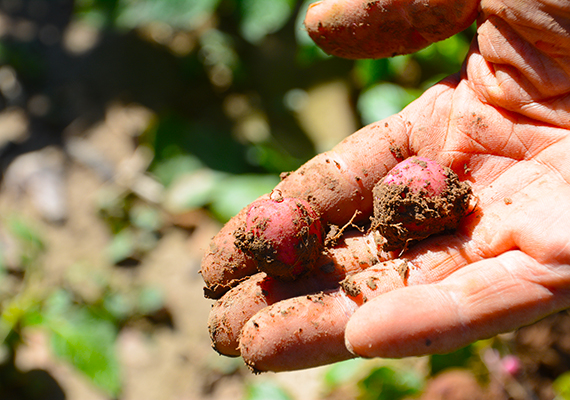 Radishes from MLP Farms, LLC in Platte County, Mo. Michael Pearl applied for and received a mini-grant from Cultivate KC in 2018. He used it to purchase a tractor, which helped quadruple production on his 125-year-old family farm.
Get Farming Mini Grants
Are you a farmer in the Kansas City Metro area who is currently growing for sale, and looking to increase your capacity for production and/or distribution? Are you a business that exists to help growers become more productive?  Cultivate Kansas City, in collaboration with the Health Care Foundation of Greater Kansas City, are making funds available to support these activities to KC metro growers.
Purpose of the mini-grants
The purpose of the mini grants is to help existing farms expand their capacity to produce food for residents of Kansas City, MO; Jackson County, MO, Cass County, MO; Lafayette County, MO; and Wyandotte and Johnson counties in Kansas, particularly residents with limited access to fresh, locally grown food.
Grants are available to:
Farmers selling produce
501c3 organizations or a project that has fiscal sponsorship of a 501c3
Entrepreneurs looking to increase farmer services within a community
Food distribution projects
In order for an urban farmer to be eligible, they must have:
A state Retail Sales Tax License
At least one full production season of documented sales of their farm products
This can be proven through submitting a copy of the previous year's signed and submitted Federal Schedule F or a year's worth of Kansas Retailer's Sales Tax Return ST-26 forms and/or Missouri Sales Tax Return, Form 53
If a farmer has been selling, but does not have one or either of these, please email Mark.Gawron@cultivatekc.org. He will talk to you about what records you may have available to document your previous sales.
If you do not currently have sponsorship of a 501(c)3, please call Mark at 913-713-9264 or email Mark.Gawron@cultivatekc.org, and we may be able to work with you to find a sponsor. 
Application Timeline
Deadline for application
5 p.m. on December 14, 2018 via email
Decision and grant checks awarded
February 22, 2019
Contracts signing
February 25 through March 8, 2019
Checks issued (target date)
March 15, 2019
Grant application process
Download and complete the application form. Save the form with your farm name or business name in the file name. Return the completed application and copies of the required documents via email to Mark.Gawron@cultivatekc.org by 5 p.m. on December 14