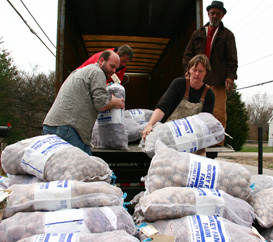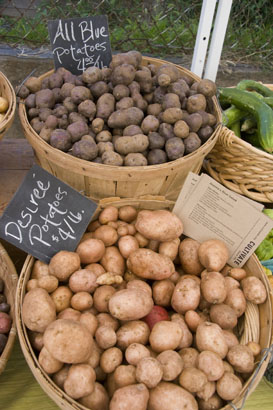 Bulk Potato Order 2018
The bulk seed potato order for 2018 has CLOSED.
For those of you who are new to the process, every year Cultivate Kansas City puts together a combined order for Kansas City area growers so you can get potatoes at a bulk rate. (As specified on the order form, most of the potato varieties are organically certified. The potatoes not listed as organic on the form are naturally grown, but not certified..)
Here is how it works:
1. Place your order: Our website works just like online seed company order forms. Select the quantities of varieties that you would like to order, review your order in the shopping cart, submit your order. Minimum 50 pounds for your total order, this may be divided among varieties.
2. Payment options:
You can select pay now and will be directed to Click&Pledge where you can pay with any major credit card.
You can select pay later and mail us a check to 4223 Gibbs Road, Kansas City, KS 66106. We must receive your payment within three business days.
3. Shipping: We have adjusted the potato prices this year to include shipping and handling costs. No additional charges (except sales tax, if owed) will be added at pick up.
4. Sales Tax: 
If you are a farmer and will be selling the potatoes you grow then you must fill out the Agricultural Exemption Certificate upon pickup.
If you work with a non-profit, school or religious organization and hold a Tax Entity Exemption Certificate with the Kansas Department of Revenue, you must present a copy of your Tax Exempt Certificate and pay for your order with a company check in order to be tax exempt. Find the list of exempt entities here.
If you are a gardener growing for personal consumption, you must pay Wyandotte County Sales Tax of 7.5% upon pickup.
5. Pick up: As soon as we know the delivery date, we will schedule one day only for you to pick up your potatoes. This date usually falls in the first few weeks of March, depending on the weather in Colorado. If you cannot attend, you must send someone to pick up your order. The pick up will be at the Juniper Gardens Training Farm (100 Richmond Avenue, Kansas City, KS 66101). Potatoes will be packaged in 50 pound bags, so if you order in smaller increments, please come prepared to sort, weigh and package your order. 
Overview of potatoes
Most varieties we are offering this year are Certified Organic potatoes from White Rock Specialties LLC. Certified Seed Potatoes (CSP) are Certified Disease Free. We are only offering CSP varieties this year. Six varieties (Bintje, Canela, Colorado Rose, Masquerade, Maris Piper, Purple Viking, Russian Banana, and Yellow Finn) are not available as Certified Organic and we are offering Naturally Grown seed potatoes are non-GMO and grown without the use of chemicals, pesticides, fungicides, or synthetic fertilizers using organic methods and philosophies.
Additional notes
White Rock will package all bulk potatoes in 50 pound bags and as a result, we will have to aggregate our orders to 50 pound increments. We will do our best to make sure everybody gets all of their potatoes, but we may have to adjust orders to reach 50 pound increments. We will communicate with any growers that will be affected by this policy and do our best to make it work. Every year, there are some mistakes and changes, so please be flexible with us. The changes are never huge, but you may get a last minute substitute for a specific variety, or sometimes a bag is inexplicably left off the truck when they head out. We will make sure that we handle things as best as possible from our end to minimize errors. Cultivate Kansas City is not liable for the potatoes you receive; we offer this service as a benefit to farmers and are a facilitator of your purchase from White Rock.
If you have any questions please contact Dr. Matthew Kost at matthew(at)cultivatekc.org or 913.401.6822