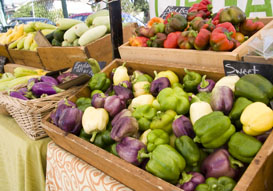 At Cultivate Kansas City, we believe that people of all ages, races and zip codes should have access to fresh, healthy and local food. And we put our words into action through several nutrition incentive programs which serve community members who are at high risk of experiencing food insecurity.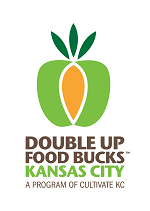 Double Up Food Bucks
Double Up Food Bucks is a nutrition incentive program that allows low-income families to double their SNAP (Supplemental Nutrition Assistance Program) food dollars when purchasing fruits and vegetables at local farmers markets (up to $25). Co-founded with the Menorah Legacy Foundation in 2010, the program took another step up in 2015 when Cultivate KC partnered with the Mid-America Regional Council, Douglas County (Kansas), and the Fair Food Network to create the Double Up Heartland Collaborative. The USDA awarded the Collaborative a Large Scale FINI Project grant award in the spring of 2016 to expand SNAP incentive programs across Kansas and Missouri. This support has led to expansion of the program and has increased the number of SNAP families being reached.  A total of 20 farmers markets throughout the Kansas City area participate in the program. To buy local with doubled SNAP dollars and participate in your local economy, see how it works and participating locations. 
Kansas Senior Farmers Market Nutrition Program
Cultivate KC partners with the White Family Fund via the Menorah Heritage Foundation to provide matching dollars to seniors who utilize the USDA's Kansas Senior Farmers Market Nutrition Program. Seniors are provided with coupons that can be used to purchase fresh fruits and vegetables at farmers markets on the Kansas side of the metro area.
El Centro Nutrition Incentives
Through a partnership with El Centro, Cultivate KC provides incentive dollars to Spanish-speaking residents who complete a healthy options course, provided by El Centro at a number of markets in the Kansas City area (in both Kansas and Missouri). Individuals who complete the course are provided with coupons that they can redeem at the farmers market when buying fruits and vegetables.
Double Up Food Bucks KC Funding Partners
Healthcare Foundation of Greater Kansas City

Menorah Heritage Foundation

Stephen R Pratt Family Fund

Unified Government - Hollywood Casino

Victor E Speas Foundation

White Family Fund

Wyandotte Health Foundation

Wholesome Wave

Bloch Foundation

Blue Cross Blue Shield of Kansas City

City of Kansas City, Missouri

Hall Family Foundation

Jackson County, Missouri

Johnson County, Kansas City, Department of Health and Environment

Missouri Foundation for Health

Sosland Foundation

KC Restaurant Week

Mid-American Regional Council, through a partnership supported by USDA FINI* funds

*USDA National Institute of Food and Agriculture's Food Insecurity Nutrition Incentive (FINI) program.