Apprenticeships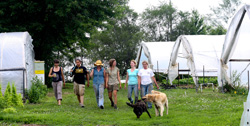 Our summer field crew is a team of four paid apprentices, the farm manager and volunteer apprentices. Dedication to the highest quality local, organic food is required. Willingness to sweat and push beyond current limits is necessary. Desire to belong to a community within this powerful movement is a must.
Gibbs Road Community Farm is a 2-acre production and demonstration farm. We sell at two markets in the summer and run a 40 member CSA. We produce around 25,000 pounds of produce annually. On top of this, things must be pretty, as we are Cultivate Kansas City's home and model farm.
Apprentices can learn every aspect of food production from soil mix preparation, seeding, greenhouse care, transplanting, soil health and preservation, drip line irrigation, high tunnel management, succession planting, harvesting, post-harvest care, market preparation, market sales, CSA preparation and distribution.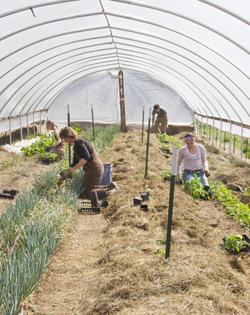 Commitment to the duration of the season is helpful to the farm and most beneficial to one interested in learning the process. The "big picture" is clear only after experiencing and understanding each step. Our apprentices have the opportunity to participate in the highly regarded Growing Growers Training Program sponsored by Kansas State University. This program adds a level of structured learning to compliment the field work and on-the-job training a crew member receives. The Growing Growers Training Program is a series of workshops and farm visits throughout the summer. Learn more about the program at www.growinggrowers.org.