Beet Salad with Goat Cheese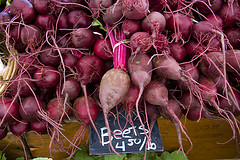 Ingredients
4 medium beets—scrubbed, trimmed, and cut in half
1/3 C. chopped walnuts
3 T. maple syrup
1 (10 ounce) package mixed baby salad greens
1/2 C. frozen orange juice concentrate
1/4 C. balsamic vinegar
1/2 C. extra-virgin olive oil
2 ounces goat cheese
Preparation
1. Place beets into a saucepan, and fill with enough water to cover. Bring to a boil, then cook for 20 to 30 minutes, until tender. Drain and cool, then cut in to cubes.
2. While the beets are cooking, place the walnuts in a skillet over medium-low heat. Heat until warm and starting to toast, then stir in the maple syrup. Cook and stir until evenly coated, then remove from the heat and set aside to cool.
3. In a small bowl, whisk together the orange juice concentrate, balsamic vine- gar, and olive oil to make dressing.
4. Place a large helping of baby greens onto each of four salad plates, divide candied walnuts equally and sprinkle over greens. Place equal amounts of beets over the greens, and top with dabs of goat cheese. Drizzle each plate with some of the dressing. Serves 4 to 6.
Source: Chef Renee Kelly
History: The wild beet, the ancestor of the beet with which we are familiar today, is thought to have originated in prehistoric times in North Africa and grew wild along Asian and European seashores. In the 19th century, beets were brought to the United States where they now flourish.
Nutrition: Beet greens contain more iron and minerals than spinach, while the roots are rich in potassium, fiber, and other vitamins. Don't overcook your beets as they lose vitamin C in the process.
To Store: Cut the majority of the greens and their stems from the beet roots, so they do not pull moisture away from the root. Leave about two inches of the stem attached to prevent the roots from "bleeding." Do not wash beets before storing. Place in a plastic bag tightly around the beets, squeezing out as much of the air from the bag as possible, and place in refrigerator where they will keep for up to 3 weeks. Store the unwashed greens in a separate plastic bag. Place in the refrigerator where they will keep fresh for about four days.
Fun Fact: Since the 16th century, beet juice has been used as a natural red dye. In 19th century England, the Victorians used beets to dye their hair.
Source: www.whfoods.com www.lovebeets.com