Beets with Blackberries and Lavender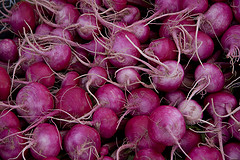 Ingredients:
4 beets
3/4 pound blackberries
1 tablespoon balsamic vinegar
Fleur de sel or salt of your choice
Leaves from 4 sprigs of purple or green basil, coarsely cut
3 tablespoons butter
1 tablespoon soy sauce
1 1/2 cup whole milk
Flowers from a sprig of lavender
Preparation:
1. Cook the beets in lightly salted simmering water in a covered pan until tender, about 30-60 minutes, depending on their size. Leave them to cool in their cooking water. When they are cool enough to handle, but still warm, slip them from their skins, slice or quarter, and set aside.
2. Meanwhile, melt the butter in a sauté pan over low heat. Add the blackberries and, after a few minutes, crush them with a fork. Continue to cook until their juices run freely, about 5 minutes. Stir in the soy sauce, balsamic vinegar and basil leaves, then leave the mixture to stew over the lowest possible heat, without stirring, until it smells slightly smoky, about 4-5 minutes.
3. At the same time, bring the milk just to the boiling point, then whisk to froth and emulsify it, preferably using an immersion blender.
4. Turn the blackberries onto a warm serving dish and arrange the beets on top. Spoon some of the milk over the beets and remainder over the blackberries. Add salt if desired and sprinkle with lavender flowers.
Recipe Adapted From: Alain Passard's "The Art of Cooking with Vegetables"
To Store: Cut the majority of the greens and their stems from the beet roots, so they do not pull moisture away from the root. Leave about two inches of the stem attached to prevent the roots from "bleeding." Do not wash beets before storing. Place in a plastic bag tightly around the beets, squeezing out as much of the air from the bag as possible, and place in refrigerator where they will keep for up to 3 weeks. Store the unwashed greens in a separate plastic bag. Place in the refrigerator where they will keep fresh for about four days.
Fun Fact: Since the 16th century, beet juice has been used as a natural red dye. In 19th century England, the Victorians used beets to dye their hair.
Source: www.whfoods.com www.lovebeets.com