Garden Greens Vichyssoise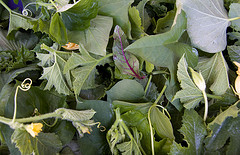 Ingredients:
2 Tbsp butter
3 potatoes, peeled and cubed
2 cups fresh greens (funky fresh, collards, kale, chard, spinach)
1 or 2 cubed zucchini
4 cups vegetable or chicken stock
1/2 cup cream
Directions:
1. Melt butter in a large pot.
2. Add potatoes, fresh greens and cubed zucchini. Cook for about 3 minutes, stirring, until softened.
3. Add in stock. Bring to a boil, cover, and reduce heat to a simmer until vegetables are tender, about 20 minutes. Puree, then let cool. Stir in 1/2 cup cream before serving. Garnish with olive oil.
Recipe from: The New York Times, "Soup, Hold the Heat"