Tomatoey Garlicky Green Beans with Basil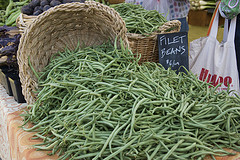 Ingredients:
2 tablespoons olive oil
1 large onion, chopped
1 Tbsp chopped garlic
1 pound fresh green beans
1 teaspoon sea salt
2 medium tomatoes, chopped
1 tablespoon tomato paste
2 tablespoons water
Pinch of sugar
Freshly ground black pepper
Crushed red chili flakes
1⁄4 cup chopped, fresh basil
Preparation
1. Heat oil in large skillet over medium-high heat.
2. Add onion and garlic to skillet. Sauté 5 to 6 minutes until onions are soft and just beginning to brown.
3. Add green beans & salt. Sauté another 5-6 min, until crisp tender.
4. Stir in tomatoes. Lower heat and add tomato paste, water, sugar, black pepper and crushed red chili flakes to taste.
5. Cover and cook, stirring occasionally, another 8 to 10 minutes until vegetables are cooked. Add additional water if pan becomes dry.
6. Sprinkle with basil and serve hot, at room temperature, or chilled.
Recipe from www.VegwithLisa.com
Fun fact: Green beans were introduced into Europe in the 16th century by Spanish explorers and were spread throughout the world by Spanish and Portuguese traders.
Storage tip: Store unwashed, fresh beans in a plastic bag kept in the refrigerator. They should keep for about 7 days. Can you freeze green beans? Yes. Green beans will retain valuable amounts of nutrients for 3-6 months after freezing.
Nutrition: Green beans are an excellent source of vitamin C, manganese and bone-building vitamin K. They are also a very good source of vitamin A, dietary fiber, potassium, folate and iron.
Source: whfoods.com