Zucchini Bread and Pineapple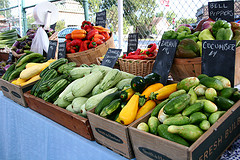 Ingredients:
3 eggs
1 cup olive oil
2 cups sugar
2 teaspoons vanilla
2 cups coarsely grated zucchini
8oz crushed pineapple, drained
3 cups all purpose flour
2 teaspoons baking soda
1 teaspoon salt
1/2 teaspoon baking powder
1 1/2 teaspoon cinnamon
3/4 teaspoon nutmeg
1 cup chopped walnuts
1 cup raisins
Preparation:
1. Preheat oven to 350°.
2. In a mixer, beat eggs. Add oil, sugar & vanilla; continue beating until thick & foamy. With a spoon, stir in the zucchini and pineapple.
3. In a separate bowl, combine flour, baking soda, salt, baking powder, cinnamon & nutmeg.
4. A 1/3 at a time, add dry ingredients to wet & gently stir by hand after each addition. Add the walnuts and raisins, blend gently.
5. Divide the batter equally between 2 greased and flour-dusted 5 by 9 inch loaf pans.
6. Bake for 1 hour or until a wooden pick inserted in to the center comes out clean. 7. Cool in pans for 10 minutes. Turn out onto wire racks to cool thoroughly.
Recipe from: www.simplyrecipes.com
Fun Fact: Zucchini and its summer squash cousins (yellow squash, patty pan, scalloped squash) are believed to have originated in Central and South America about 10,000 years ago.
Cooking Tip: Zucchini is incredibly easy to prepare- boil it, steam it, fry it, bake it, or eat it raw. It's terrific on the grill for a simple, quick dish and can be used in quick breads or other baked goods.
Nutritional Info: A good source of vitamin C and A, it provides 16 per- cent and 10 percent of the daily recommended values, respectively. There are also lower levels of omega 3 fatty acids, various B vitamins, zinc, calcium, iron and protein. All these nutrients work together to build a wholesome well-rounded vegetable that sports a number of distinct health benefits.
Source: Veg with Lisa, www.vegwithlisa.com