Cultivate Kansas City's Newsletter - August-September 2013
Annual dinner celebrates local food
 By Jill Erickson, Development & Communications Director, Cultivate Kansas City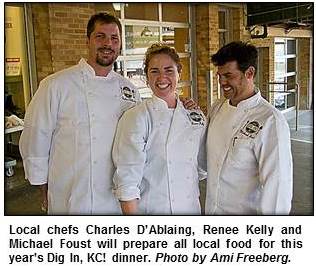 Save the date! Cultivate Kansas City will be hosting the second annual Dig In, KC! A Dinner with Farmers and Friends, on September 22, 2013 at the City Market. Dig In, KC! is a celebration of the work Cultivate Kansas City does year round supporting food, farms and community for healthy lives, a strong local economy and a more sustainable future.
 
"When I was introduced to Cultivate Kansas City, I realized that growing local, organic food has not only an impact on the health of local Kansas Citians, but a huge impact both environmentally and economically on our community," said event co-chair Allison Harding. "Cultivate Kansas City is improving the lives for those in our city neighborhoods and making our community a more sustainable healthy place to live."
 
Last year, more than 200 local supporters turned out to enjoy dinner prepared with local produce and by some of the most impressive chefs in Kansas City. Famed local chef Michael Foust, the Farmhouse Executive Chef, along with Chef Renee Kelly of Harvest and Chef Charles D'Ablaing of The Hotel Raphael will again be joining forces this September to prepare some 600 pounds of fresh vegetables all grown by local farmers.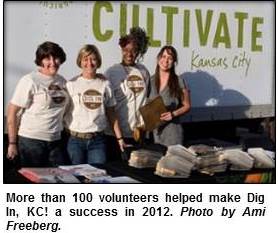 The dinner will be served family style and will include all produce from local farms, including Gibbs Road Farm, a program of Cultivate Kansas City. Prior to dinner, guests will have the opportunity to enjoy live music by Trio Atzlan and appetizers prepared by the culinary students from the Broadmoor Bistro. Tickets will be $100 and will go on sale in mid-August.
 
"Kansas City's network of urban farmers is a diverse and growing community, we are all supporting each other," said Chef Foust. "My staff and I know every farmer we work with and have had the opportunity to visit all the farms we buy produce from. This event allows the community to connect with the farmers in a really unique and intimate way."
 
For his restaurant, Michael serves a paper menu and a chalkboard menu, both easy to adapt with the changing seasonal produce. He composts food scraps and works with more than a dozen local growers to source food for his menu. He is actively working with local hog farmers and practices a "tip to tail" philosophy in his restaurant.
 
"Connecting Kansas Citians with the farmers who grow their food is one of the most exciting aspects of this dinner," explained Gwen Wurst, President of Cultivate Kansas City's Board of Directors. "We take great pride in seeing folks enjoy the work of these talented chefs and connect them personally with the farmers and ranchers that help make it possible."
 
Don't miss your opportunity to experience local produce prepared by the best chefs Kansas City offers. Reserve your tickets online to enjoy the harvest of urban farming!
 
For more information about how to get involved contact Jill[at}cultivatekc.org