Cultivate Kansas City's Newsletter - August-September 2013
Local group has provided $14,000 in micro-grants to artists, farmers
By Andrew Erdich, Erin Olm-Shipman, and Sean Starowitz, BREAD! KC Co-founders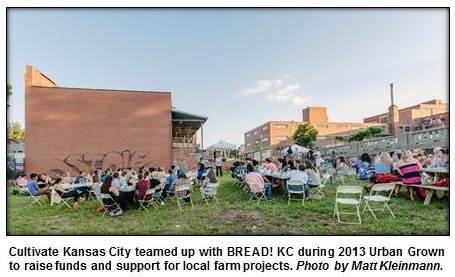 Despite the cool summer temperatures that lingered well into summer, things heated up on June 19 as BREAD! KC joined forces with Cultivate Kansas City and PLUG Projects at City Ice Arts for the Urban Grown event, Local Earth.
 
Nearly 150 artists, farmers, and community members of all ages came together to learn more about interesting and engaging urban agricultural projects that are taking place all over the city. By the time the sun had set and the last light in the gallery had been switched off, Jana Loflin was awarded a $1,165 grant, generated by the evening's ticket sales, to fund her urban garden project, Sprout.
 
For BREAD! KC, this event marked $14,000 in micro-grants that the organization has awarded since it was founded in October 2010 as a response to dwindling government support for the arts. The organization, which is run by Andrew Erdrich, Erin Olm-Shipman, and Sean Starowitz, is a member of The Sunday Soup Network, an international system of more than 70 similar groups, originally founded by the Chicago-based artist collective, InCUBATE.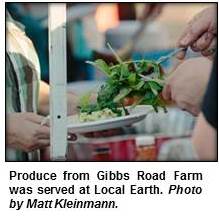 The event prototype is simple: bring the community together, serve them a delicious meal in exchange for a modest donation, introduce them to other creative individuals and organizations in the community and educate them about their projects, then allow the audience to choose which project they would like to democratically fund. At the end of each meal, the project with the most votes is awarded the funds collected through the entrance fee. Although there is a monetary award involved, BREAD! KC's main goal is to bring the community together to create and strengthen a network of support for each other.
In other words, the group strives to feed the community in several different ways. We produce meals using as many organic, locally-sourced ingredients as possible; Farm to Market Bread Company has been a constant support, and other partnerships have included those with Door to Door Organics, Gillis Growth Grove, and Howard's Organic Fare & Vegetable Patch. Missouri Organic Recycling collected 40 lbs of food waste from the event for their compost program.
For the June Urban Grown event, BREAD! KC was grateful to receive donations from a number of farms that were featured on the Urban Grown Tour, including Gibbs Road Community Farm, Lucky Star Farms, and Wells Family Farm.
Anyone from the community seeking funds for a creative project is encouraged to apply through a downloadable application found on the BREAD! KC website. The application itself is intentionally simple in order to encourage participation and appeal to a broad range of projects.
 
For more information and to purchase tickets for upcoming events, visit breadkc.wordpress.com.