Cultivate Kansas City's Newsletter - August-September 2013
Nopales for Kansas City—exploring and evaluating production, marketing
 By Alicia Ellingsworth, Manager Gibbs Road Farm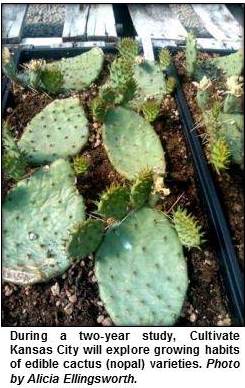 Gibbs Road Farm, in collaboration with Juniper Gardens Training Farm and Nopal-itos Urban Farm, has been awarded a USDA Sustainable Agriculture and Research (SARE) grant this year. During a two-year study, we will explore the growing habits of Opuntia ficus indica and two other edible cactus (nopal) varieties. We will also explore marketing the product of the plant, both vegetable and fruit, and finally we will evaluate the project and in the spirit of SARE, share our experience with other growers.
 
As summers grow hotter and drier, we've searched for crops that thrive under the new conditions. We're growing more potatoes and okra. We harvest sweet potato greens for CSA and market. We're experimenting with chin baun, Malabar spinach and now nopales.
 
The nopales will be grown in the same soil but under different conditions at the three farms. At Gibbs Road, we are growing in pots that will remain in the greenhouse year-round. At Juniper Gardens Training Farm, the plants will be grown in the ground inside a high tunnel. Nopal-itos Urban Farm will grow the plants outside and employ low tunnels during the winter.
 
We will keep records and photos to record the progress.
 
So far, the nopales at Gibbs Road have put down roots and have also sent out new pads (vegetable) and others are producing prickly pear (fruit). We are currently gathering the best mix of soil which will include compost, wood chips and pea gravel.
 
As part of the grant, we traveled to Arvada, Colorado to meet with experienced grower, Kelly Grummons of Timberline Gardens. A day's worth of technical assistance ended in harvesting 120 nopal pads for Kansas City. Mr. Grummons' initially learned about the plant through the writings of Charles A. Barr, Jewels of the Plains, and with working with Mary Ann Heacock a contemporary of Mr. Barr.
 
Mr. Grummons has been researching and growing nopales for a lifetime. We saw hundreds of varieties thriving under the Colorado sun, some outdoor and others under cover. Mr. Grummons shared what he knew enthusiastically and continues to be a resource for us.
 
It is widely accepted that Opuntia originated in Mexico and has now traveled and acclimated to southern Europe, Australia, northern Africa as well as across North America. Many wild and cultivated patches have been seen thriving outside in spots around Kansas City.
 
The varieties were selected for various reasons, but primarily for high production ability. The Opuntia ficus indica grows upright and puts out large pads. Opuntia compressa is a smaller, spineless plant with red fruit that comes from eastern North America and seems to thrive in cooler, more humid conditions. Opuntia gilvescens which blossoms yellow and produced lavender fruit was selected because of its ability to produce large amount of prickly pears. We will make comparisons across varieties.
 
The nopal pads are known for their ability to regulate the body's production of insulin and to control blood sugar levels as well as lower cholesterol and improve chronic digestive problems. The fruits are great for jams, jellies and for juicing.
 
We're talking to many local folks about how they already use nopales. We're finding much excitement when we mention we're working on a local, organic source. Follow our progress on Facebook, 'like' https://www.facebook.com/pages/Nopales-for-Kansas-City.
 
Reach Alicia at alicia[at]cultivatekc.org.