Cultivate Kansas City's Newsletter
Celebrating our tenth anniversary! Looking back, looking forward
By Katherine Kelly, co-founder and executive director, Cultivate Kansas City
Food, farms, community. In some ways, those three words are so simple. At Cultivate Kansas City, we grow food, farms, and community. Yet, when we began our work ten years ago, we were just beginning to understand the power of what we were hoping to create. We had, within us, the seeds of what this food, farms and community movement could become. In the years since then, those seeds have sprouted, taken on form and substance, grown and become sturdy young plants.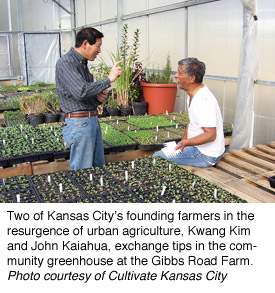 We've grown more food at our Gibbs Road Farm than we ever thought possible. 
We've helped grow more farms in city neighborhoods than any of us expected.
We've helped grow and nurture a community of people – farmers, gardeners, eaters, organizations, foundations, companies, and more – who care about the food we eat and how that food shapes our individual and shared lives.
We are celebrating our organization's first decade, but, at heart, we are celebrating the work and vision of all of the people who, especially in the beginning years, believed in the power of growing food in the city. Farmer John. Bev Pender. Tina Hoover. Carrie McDonald. Debbie Sosland. Howard Lotven. Gayla Brockman. Kwang Kim. Ted Cary. We could write a list of hundreds of names of people who have been part of creating a new vision for good food grown in city neighborhoods and good food eaten in city neighborhoods. 
As an organization, we've been a catalyst, a channel, a leader, a follower in this process of growing food, farms, and community. We've been teachers, we've been students, we've been peers working side by side with others to problem solve and co-create.  
And we've only just gotten started.
Over the coming year, in honor of our anniversary and all the growth and change in the community it represents, we'll be asking community members and our staff to write what we are calling "Looking Back, Looking Forward" articles, sharing their personal experience of urban agriculture and the urban food system and their visions for what we might, together, be able to grow in the years to come.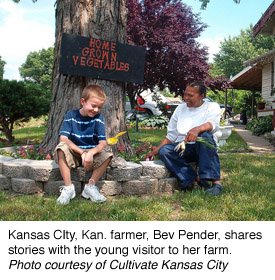 In one of our earliest "Farmers and Friends" meetings, we asked attendees to draw, on big sheets of paper, their visions for what a food healthy community would look like. I remember looking over the groups of people as they talked, drew, laughed, and dreamed together. Farms sprouted on paper. Community gardens rose up from squares showing empty land. Stick figure community members shopped at newly established farmers' markets. School cafeterias began, miraculously, to offer trays of good food, locally grown. There was so much energy, laughter, and heart released in that room!
We hope, through this series of "Looking Back, Looking Forward" articles, to release and share that same kind of vision, hope, and passion. We want to give recognition to the good work we've done together, and to offer up ideas of what our community can achieve in the years to come. We want to give voice to the so many "dreamers and doers" who are part of our food and farm community. 
Enjoy! And, if you'd like to contribute your own story, reach out to Ami Freeberg, ami@cultivatekc.org. We'll be publishing stories in our newsletter and online throughout 2015 and we'd love to hear your voice.