Cultivate Kansas City's Newsletter
A little attention goes a long way for Ivanhoe neighborhood
By Dina Newman, Advocate for Change: Ivanhoe Healthy Kids Initiatives, Grown in Ivanhoe Project Manager
Nearly five years ago, I began an initiative in the Ivanhoe neighborhood off Woodland Avenue to create sustainable solutions to address the neighborhood's health and wellness challenges. As recipients of a long-standing history of social inequities, the Ivanhoe residents were rooted in a community classified as a "food desert", therefore one of my first goals was to encourage and teach them how to grow their own food.
My plan to introduce, and in some cases, re-introduce urban farming to the community, began with me reaching out and connecting with the "best of the best" in the urban agriculture movement. I didn't know who that might be so I began to ask around. Time and time again, the name "Katherine Kelly" kept surfacing.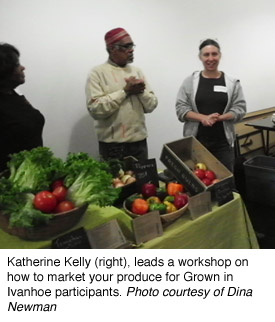 When I first met with Katherine, she was spearheading the work for Kansas City's Urban Agriculture Code Ordinance while operating the Kansas City Center for Urban Agriculture (now Cultivate Kansas City and managing the organization's farm on Gibbs Road. She was one of the busiest women I knew, and yet, she made time to meet with me on many occasions. I had so many questions back then, and with patience and humor, she helped me navigate the challenges I was facing while in the beginning stages of creating the Grown in Ivanhoe Project, a collaborative effort aimed at empowering residents to grow their own healthy food while supporting those who wish to sell produce they grow in their neighborhood. (I actually asked Katherine to come to the neighborhood center to "teach" several of our urban farm classes, and she did!) 
Looking back, I can't believe I asked her to do this.  From technical support to classroom instruction to hosting field trips for our growers and providing amazing hands-on opportunities, Cultivate Kansas City has been instrumental in helping us build a true grass roots level neighborhood food system. Much of the success of the Grown in Ivanhoe Project is due to Cultivate Kansas City's ongoing mission to create a just and sustainable food system regardless of one's zip code, race or economic status.
Since our first meeting with Cultivate Kansas City, our urban farmers have gone from seven or eight elderly folks to a roster of 30 growers who are farming and gardening on porches, in vacant lots, back yards, front yards, shared space community gardens. We have calculated nearly 7,000 pounds of neighborhood-grown fruits and vegetables and through our small growers farmers' market and farm stand network, we have witnessed economic impact and micro-agriculture businesses created.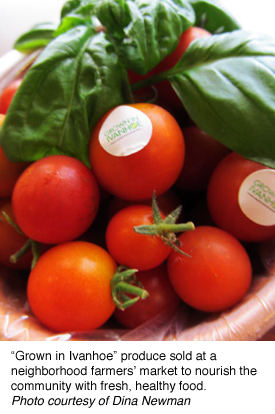 Ten years from now, I imagine food deserts will no longer exists – not because of an onslaught of grocery stores, but because people will have access to affordable, delicious, healthy food simply because they are growing and sharing their own. I think that we will see many more small farmers and gardeners cultivating good food, cultivating community and contributing to the agricultural needs of the city as a whole. I imagine that Cultivate will be right there front and center supporting neighborhoods – urban and rural – with the tools (literally and figuratively) needed to buy a seed, plant and harvest, water and weed and then sit down at the table to eat a tomato born of love, dignity, and honor of the land.
Congratulations Cultivate Kansas City on 10 remarkable years!  It has been a blessing and a privilege to be a guest at your table.