Cultivate Kansas City's Newsletter
I fell in love with the spinach
By Gwen Wurst, board member and Gibbs Road Farm customer
My relationship with Cultivate Kansas City began over a bag of spinach.
I bought a bag every week at the Brookside Farmer's Market.
It was the most amazing spinach I had ever tasted. The spring spinach tasted  hearty and filling. The fall spinach had a young, fragile nature with huge flavor. I simply fell in love with Gibbs Road Farm Spinach. 
And then I fell for urban agriculture.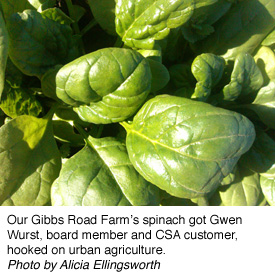 A lot has changed since 2007 when my family joined the Gibbs Road Farm Community Supported Agriculture (CSA) program. After joining, we volunteered to work in the fields. Next, I volunteered for the organization's first formal committee -- fundraising. We dreamed of events. We recruited more friends to join the movement. Our board of directors and staff felt compelled to state our vision: a farm in every Kansas City neighborhood.
The events of the next 6 years were startling and amazing.
The city of Kansas City, Mo. passed the urban agriculture ordinance. More than 250 people attended the Annual Friends and Farmers Meeting. The first New Roots for Refugees participants graduated and started their own farms. More than 1,200 people came to hear Vandana Shiva tell her story – the world's story of food democracy and seed freedom. Kansas City hosted the nation's largest urban farm and garden tour featuring 60 sites. Three locally grown agencies worked together to increase farming and community gardens in Kansas City. More urban farming and local food nonprofits started specializing in youth entrepreneurs, student farmer/chefs, food policy, and urban renewal. The interest was tremendous. Our city suddenly boasted more than 45 farmers markets. Schools, businesses, hospitals, restaurants all were clamoring for fresh, locally grown food. The local food movement had made a commotion.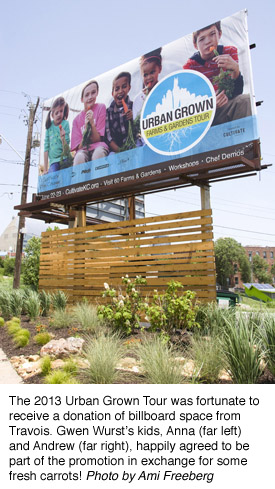 With so many changes, the constant has always been the inspiring people shepherding Kansas City to become a healthier, more vegetable-loving place. The apprentices who train at the Gibbs Road Farm give their sweat, their hands and their backs to learn and then start their own farm businesses. The New Roots for Refugees farmers trust that they can own a successful farm business. The Cultivate Kansas City staff shares their passion for food, food access and healthy communities. The volunteers generously contribute their expertise and joy. The donors invest in our vision. 
The Gibbs Road Farm spinach sells out fast at the Brookside Farmer's Market. My kids favor the carrots, beets and lemon sorrel. My husband prefers O'Henry sweet potatoes. But for me, I'm still in love with the spinach.
But these days it's not just about the amazing taste. It's about the people who grew the food, and knowing that by supporting that endeavor we are improving our city – our health – our place on the planet. When it's cold, I worry about the famers. When it rains, we celebrate for the farmers. And when we buy spinach – we all say hurrah!
I can't wait to see the next 10 years. We will have a farm in every neighborhood. And the spinach will be great!