Cultivate Kansas City's Newsletter
Learn how to make lemonade out of too many greens
By Carrie McDonald, CSA member
If I'm not the original Full Circle/Gibbs Road Farm Community Supported Agriculture (CSA) subscriber with the longest continuous membership, please don't tell me…because it's one of my favorite claims to fame.
Back in the day when the organic farmers' market was out under the trees at Barstow, every Saturday as I browsed and shopped for the ripest, loveliest produce, I piled it all carefully—no bags—in a low cardboard box that had originally stored 4 six-packs of Boulevard Pale Ale. Do you know, by the time the box was full and my husband and I couldn't scratch together another dollar for that final ripe yellow tomato at the red-headed twins' stand, more than one shopper had usually admired the composition and offered to buy it "as is." I assume it was merely a compliment to the farmer's art, the great graphic design on the box and my artful stacking, since no one ever actually pulled out a wad of the (other) green stuff. Carrying that beautiful box was almost as good as toting a cute baby.
Since then, I've been a Full Circle/Gibbs Road Farm CSA subscriber because: The vegetables are so darned delicious, I want to do my small bit to support a return to healthier-for-you-and-me-and-the planet agriculture. It's a matter of so many things – land stewardship, healthier food, real food, building community, creating local jobs and fostering a slower, saner pace of life.
Never will I forget emails from two unhappy subscribers early on, and I know Katherine Kelly, then farmer of Full Circle Farm, now co-founder and executive director of Cultivate Kansas City, remembers them too. The essence of their complaint was that they had expected to receive fresh tomatoes, peaches and corn on the cob every week all summer. Huh? Not that I haven't composted a bag of fava beans or okra in my time, but I've learned since how to deal with the wonderful mix of new, varied and interesting vegetables. That's what makes a CSA an adventure, and hardly a scrap of green escapes me these days! 
I'd like to share my single best tip for those weeks when the ground offers up what appears to be too many greens.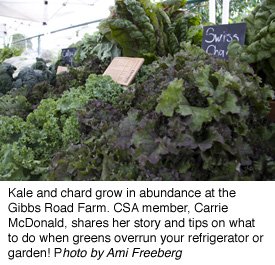 Learn how to make lemonade out of too many greens.
Although I used to keep mild and bitter greens separate for this process, now I mix them all together. Here's how I start:  rinse, then dump them ALL into a large pot of lightly salted, boiling water. Parboil for up to 8 minutes. Drain, then when cool enough to handle, wrap what is now a teeny-tiny glob in a large, clean dish cloth and squeeze the heck out of it. Although it's not necessary, you can chop it all up fine sometime during the process.
Pat into smaller single-serving or family-size patties, and place them (not touching) on a jelly roll pan covered with parchment paper. Stick the pan(s) in the freezer. Once frozen, drop the individual patties into a large freezer bag. 
Voila!
You now have organic greens to use in stews, soups and sautés for the next time you don't have enough greens, and you wish you had just one more bag.