Cultivate Kansas City's Newsletter
The farmer in me is the eater in you
The fate of local food is in all our hands
By Dani Hurst Brown, urban farmsteader
Becoming an urban farmsteader was never in my post-collegiate playbook.
I'd had two clear and direct objectives in mind when I graduated college six years ago: to become a famous writer and editor; and — having been a lifelong Kansas City resident until that point — to watch Kansas disappear in my rear view mirror forever. I spent the next few years trying to bolster my fledgling journalism career, but it was a frustrating and fruitless endeavor. To add insult to injury, after having survived the grueling process of making homes and friends in two other states, my then-boyfriend (now-husband) and I  ended up moving back to our childhood stomping grounds, the place I had convinced myself just wasn't good enough for me.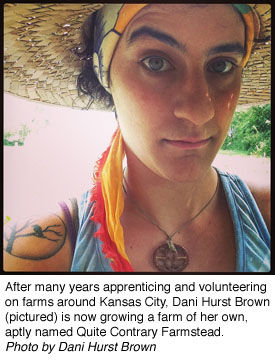 I originally sought farming out as a way of making the best of a worst-case scenario. It was a means of making money while attempting to escape from an endless and repetitive rotation of part-time jobs. What I found, though, was a permanent place in a collection of conscientious cultivators, a niche within a fellowship of farmers who foster real improvements on their land as well as within their surrounding communities.
Each of the amazing local growers I have had the honor of laboring with — from my first day three years ago as a wide-eyed and completely green apprentice at Fair Share Farm, to bidding farewell to this most recent growing season as part of the Gibbs Road Farm crew, now well on my way to starting my own farm — has inspired my profound respect for nature and an unquenchable fervor for learning to live off the land. Now, tracing the roots of my planting passion and considering their possible future paths, I am amazed at how quickly and deeply I tumbled head-over-hoes in love with farming and the local group of growers it has nurtured.
Being a grower in the beginning stages of building a farmstead, I hope the demand for locally and sustainably raised food continues to rise — and not just for the financial reasons you might think. I hope more people educate themselves about the benefits of eating a seasonally sound diet because I know that path eventually leads to greater wisdoms, including a deeper appreciation for the truly precious and fleeting nature of fresh food. The more educated the community is, the more readily it can question the status quo and make the kinds of food choices that will strengthen, encourage and promote a vigorous local food scene.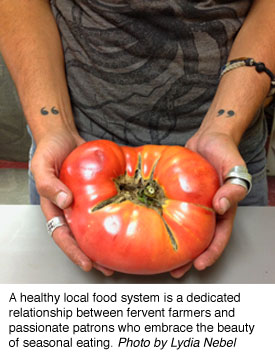 As both a farmer and a feaster, I understand that a successful local food system is greater than the sum of its parts. It is more than a stagnant cycle of supply and demand; more than just the physical exchange of funds for food; more than a mere solution to the equation x = producer + consumer. Instead, a thriving local food network — like the one here in Kansas City — is a vibrant, dynamic being. It is an active and enlightening relationship between fervent farmers and cognizant customers; a patchwork quilt of farmers markets, restaurants and grocery stores committed to making locally and sustainably raised food accessible to the masses; a passionate community that embraces the ebb and flow of seasonal eating and welcomes the culinary and cultural challenges that follow.
I meet many fellow farmers through programs like Growing Growers who are beginning their own agricultural adventures. I witness new farmers markets open every season, while more restaurants and small grocery stores insist on sourcing from local farms. I hear about more schools and cafeterias trying to incorporate as much local food as possible onto their menus to help expose kids to what real food looks, feels and tastes like.
For these reasons and more, I see a very fertile future for our lively local food landscape