Cultivate Kansas City's Newsletter
With a little cultivating, I found my place in Kansas City
By Victoria Cherrie, volunteer editor of Cultivate Kansas City's Newsletter and member of the marketing committee
Some of the best therapy we can give ourselves is being outside where the gifts of the universe are always present, offering a constant flow of peaceful energy and quiet spaces to just be.
Sailing has always been that place for me. But I was blessed to discover the same deep connection with farming one summer a couple years ago while weeding beet crops with a bunch of strangers at Gibbs Road Farm.
I was regrouping my life at the time and turned to Cultivate Kansas City as a way to get involved in the community and get my hands back into the dirt. I volunteered for a workday on the farm and this sense of tranquility washed over me as I ripped out weeds, composted tomato vines and made some great personal connections.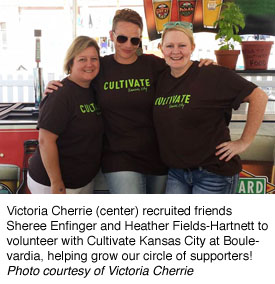 Among them was Ami Freeberg, Cultivate Kansas City's communications and outreach manager, whose friendship opened doors to wonderful opportunities and an amazing new family of friends.
As an Army kid growing up in Europe, I was raised with a great appreciation for many things, including being able to shop the local farmers market a couple times a week. It's part of how I evolved into a gardener, growing mostly just plants and flowers until a few years ago.
My perspective broadened as a young journalist covering farms in the Flint Hills at my first reporting job as I gained a deeper appreciation for where our food comes from.
But I never really, truly made the connection and learned the importance of having a vibrant, local food system until I joined the volunteer ranks of Cultivate Kansas City.
As a volunteer I began to see firsthand the patience, passion and physical energy required to be a farmer. I was amazed at the dedication and commitment to such hard labor – day after day, turning nature's gifts into a livelihood that benefits our entire community. As I began to immerse myself in writing and editing stories for our newsletter while growing more herbs and vegetables of my own – I began to understand the food movement afoot in our city and see for myself the tireless efforts of the leaders and volunteers behind every successful step toward a sustainable, healthy, local food system.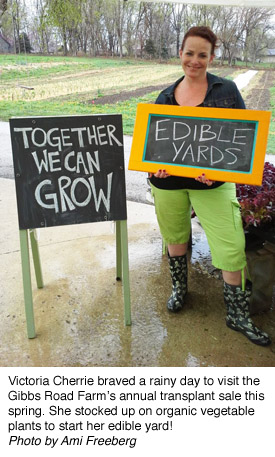 From discovering ways to change planning policies that support urban agriculture to preserving urban farmland, identifying food deserts and educating our city about how to grow and be sustainable, Cultivate Kansas City has blazed a trail for a healthier future for all of us.
I often think to myself how awesome it is that after an amazing 10 years full of milestones and accomplishments; our great work here is just beginning.
I'm so thrilled to be a part of it all.
Since becoming a volunteer I have learned more about this wonderful city than I ever could have imagined after being gone more than 20 years. I learned how to compost; built my own bin out of recycled pallets and I have been introduced to so much great food; so many great people. I am enjoying what I know will be lifelong friendships that have opened my heart and new doors to creative opportunities, including being a member of our marketing committee.
Through Cultivate Kansas City I have tapped back into my passion of storytelling on a different platform from my daily work and our great community partnerships led me on an exciting path of teaching English to refugee farmers who inspire me every day.
I've learned so much in a short time and the possibilities are endless. The next 10 years are going to be even better.
How do I know?
I've learned that everything great begins with a seed – an idea – that will grow and be beautiful with passion, patience and nurturing.
Our organization started as a seed that bloomed into a flower.
Now it is a garden transforming our community into the most beautiful place.