Cultivate Kansas City's Newsletter - June 2015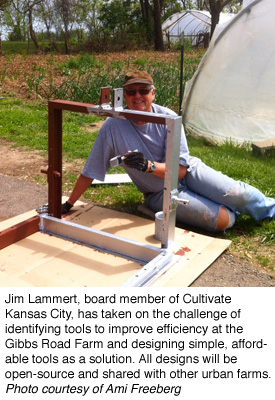 Innovations for Urban Farmers
By Jim Lammert, Cultivate Kansas City board member
Urban farmers are famous for their ingenuity in solving problems and finding better ways to accomplish a task. They learn to make-do by using their creativity, skills and tools to build items that improve their productivity and enable them to reuse items for the future. Many times this is done on a very limited budget and using commonly available materials to accomplish their goals.
At the Gibbs Road Farm we are trying to continue this tradition of innovation for the benefit of Kansas City's urban farmers. As an example, we developed a low-cost tool/mechanism to wind-up our irrigation tape at season's end so it could be easily used again next year. We also made an earth staple extraction tool to efficiently pull the staples prior to winding the tape on the spool, minimizing damage to the tape.
Historically, the tape was removed from the field at season's end and bunched up in a corner of the storage shed. It was difficult to reuse and as a result we probably used a lot more new tape each year than was needed. Also, during our research we observed the procedures used to remove the earth staples and realized they could be a potential issue. If the tape itself was used to pull up the staples (instead of bending over and pulling it up by hand), the stress and friction with the staple (especially rusted ones) could cause small tears in the tape, resulting in "leakers" where excessive amounts of water would be lost when the tape was reused.
The farm manager requested we build an inexpensive wind-up tool that would enable the team to put the tape on a spool at season's end for easy storage. An internet search found some expensive items for purchase as well as some homemade ones that showed us an alternative model. We realized we actually needed two tools: an earth staple extractor tool and a tape wind-up mechanism that consisted of a base stand to hold a removable spool and a cranking device.
For the earth staple extractor tools we used two broken tool handles that had been discarded and metal eye screws. Since the handles were repurposed, our only cost was the eye screws at about $1 each.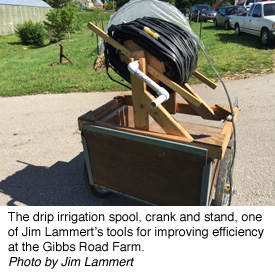 For the wind-up tool we used 2x4s, PVC pipe and connectors, a few small pieces of ½-inch plywood, a spring-loaded clamp and deck screws. The cost for the base stand and the PVC cranking mechanism was $30. The cost of one removable spool was about $10 and since we made six, the cost for the spools was $60. Total cost of the complete irrigation tape wind-up tool was $90.
Here's a link to download a detailed description of the materials, sizes and assembly required to make both tools.
The net result is we ended up with two new productivity tools for the farm at a very low cost. The earth staple extractor tool is more ergonomically friendly than bending over and pulling the staple by hand and it doesn't damage the tape. The irrigation tape wind-up tool efficiently winds the tape on a spool that is easy to store and easy to reuse again next season. Both tools help us also save money by reducing the amount of brand new tape we will need and will help save on our water bills by reducing leaks in the reused tape.
There are many other tools that can be made for small scale urban farmers and we plan to provide more ideas in future newsletters.