Cultivate Kansas City's Newsletter - June 2015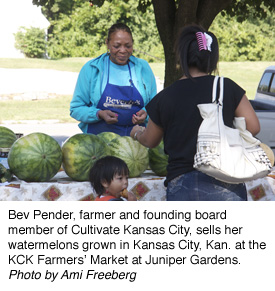 Looking Back, Looking Forward: A Profile of Founding Board Member Bev Pender
By Dana Henry
Today, Soul and Soil Rainbow Gardens, based in Kansas City, Kansas, is teeming with life, from the rows of lettuce stretching across fertile, shaded soil to the fruit trees taking root between two family homes. Bev Pender oversees all operations at Soul and Soil, which includes managing several lots by her home, as well as additional lots near her mother's home.
Bev, who is now 65 years old, started farming in earnest in 2000, when she retired from General Motors. "That's when I really went full blast," she says. Her efforts included buying lots in her neighborhood and repurposing them for food production, selling produce at the local markets, delivering fresh produce to seniors, teaching children about gardening on site, and acting as a resource for others who were interested in urban farming.
Bev credits her aunt and uncle for her knowledge of farming and for many of the approaches she uses to this day, including dry farming techniques. She says dry farming gives her more flexibility and allows her to avoid the expenses involved with irrigation. She prefers planting in harmony with nature and the natural shifts in rainfall throughout the seasons. "I farm the way I was taught to growing up," she says. "The old people used to tell us to watch the moon. Watch the animals. Get the almanac and read it. And then just know when and what to plant."
Over the years, Bev has cut back on how many times she goes to the market. She used to go four days a week. Now, she goes once weekly. She is also cutting back on the number of crops she produces so she can focus on several that she takes to market: cucumbers, green beans, lettuces and other greens, peppers, and tomatoes. These days, she also excludes hybrids from her lineup and exclusively grows heirloom fruits and vegetables.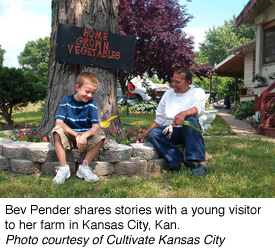 When asked about her vision for the future of Kansas City's food system over the next 10 years, Bev says she would like to see two groups become central to the effort: children and seniors. She believes every child in every school should have gardening as an ongoing, required component of their education from the time they are 4 or 5 years of age. She also believes seniors should have opportunities to work at farms or simply to pick whatever they want to buy. In addition, Bev says seniors who can't make it to farms because of mobility or other health issues should have fresh produce come to them. In short, nobody should be left out of the urban farming movement, especially not the young and the old, who stand to benefit the most from eating fresh, healthy produce.
Though she is scaling back on her own work, Bev does have advice for those starting out in urban farming. First, she says, be prepared for things to die because, in her words, everything that lives has to die. Second, get your heart as well as your head in the game. For Bev, the commitment of the heart is essential, which is why "soul" is part of her farm's name. Third, don't give up. "Be determined," she says. "Get yourself prepared. Anything worth having is not easy anyway."
She adds that urban farming can get too complicated at times and suggests farmers try simpler, less engineered, approaches such as dry farming. She encourages younger farmers to think about what they would do if they had to grow food without a water source or other advanced tools and approaches. She urges farmers who are just starting out to learn about and employ the old methods that have been passed down for centuries—the very ones she grew up with—because they are based on common sense, and they work time and time again.
What are Bev's ultimate words of wisdom to the urban farmers of the future?
"Don't take all the fun and glory out of it."