Cultivate Kansas City's Newsletter - June 2015
Measuring a Year of Beans&Greens
By John VanderHeide, interim program manager, Beans&Greens
The famous musical "Rent" once asked how we measure a year – seconds or cups of coffee. The first one seems tedious to count and the second depends significantly on your caffeine habit.
As we roll into June and start thinking about farmers' markets again, it's a perfect time to take a look at ways to measure the year for Cultivate Kansas City's newest program, the Beans&Greens Program™, which we took over from the Menorah Legacy Foundation in January.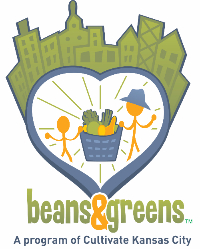 One of the most impressive measures of Beans&Greens from last year is $168,455. That's the amount of match dollars that Beans&Greens contributed to the local food economy in 2014. This is in addition to the $185,476 of SNAP (Supplemental Nutrition Assistance Program) and SFMNP (Seniors Farmers' Market Nutrition Program) dollars that were also spent at the 15 area markets that participated in 2014. This adds up to a total of $353,931 worth of local healthy food onto the tables of nearly 4,000 Kansas City families, thanks to Beans&Greens. That's a year well spent.
Another significant number that measures Beans&Greens over the past year is 15. That's how many markets were participating in the program last year. These markets are located as far north as Liberty, east as Independence, west as 20th Street in Kansas City, Kan. and south as Overland Park, and there is at least one operational every day of the week except Mondays. Our markets run the gambit from Troostwood Gardens, a farm stand that sells produce grown on site at the garden on the corner of 52nd and The Paseo, to City Market where dozens of vendors from within 500 miles sell their produce. This variety of markets provides a wide range of options that can cater to the needs of both consumers and growers.
In 2015 we are excited to announce that we will be adding two new markets, Raytown Farmers' Market and the Northeast Farmers' Market. For a complete list of markets that participate in the Beans&Greens program visit beansandgreens.org.
One particularly exciting aspect of the Beans&Greens relationship with these markets is that we help increase farmer revenues at markets by giving them access to SNAP and local philanthropic dollars that would have otherwise gone elsewhere. This is most notable is at markets in communities with food deserts, which means there is limited or no access to fresh healthy foods. "Our markets might not exist without Beans&Greens," says Joshua Hoffman, manager of the KCK Farmers' Market at Strawberry Hill.
Looking to the future we're excited about possibilities of increasing healthy and local food access in food desert communities by partnering with new markets in coming years and expanding to other types of locations as well.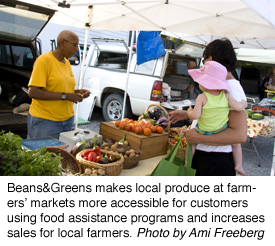 The last way that it is important to measure Beans&Greens over the years has actually nothing to do with numbers but with people and their stories.
Hearing customers express gratitude for the Beans&Greens program for allowing them to use SNAP and double their dollars at farmers' markets is particularly important to us at Beans&Greens because it demonstrates how important the program has been in the past to families that rely on SNAP and SFMNP to access their healthy food. We hope that many more families can use Beans&Greens to find out about the joys of farmers' markets and get connected to the local food system, so we are working hard to make 2015 an even better year.